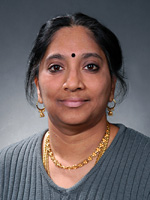 Pramilla N. Subramaniam, MD
Professor of Medicine
Co-Director, LSUHSC/MCLNO Cardiovascular Center of Excellence
LSU HealthCare Network Clinic

200 West Esplanade Ave Ste 205
Kenner LA 70065
504.412.1705 PH
504.304.0522  FAX
psubra@lsuhsc.edu

MD -- 1977
LSU School of Medicine
New Orleans, LA
Pramilla Subramaniam received her undergraduate training at Washington University in St. Louis and at the University of New Orleans. After receiving her MD from LSU School of Medicine, she completed her residency in Internal Medicine at LSU and a Cardiovascular Disease fellowship at Alton Ochsner Foundation Hospital. In 1983, she joined the faculty of LSU School of Medicine's Section of Cardiology.

Dr. Subramaniam is instrumental in training fellows in invasive/interventional cardiology. She also developed a private practice at Hotel Dieu Hospital (now the Interim LSU Public Hospital), Lindy Boggs Hospital (closed after Hurricane Katrina), and the LSU Lion's clinic.

Dr. Subramaniam has received numerous awards for her teaching and has been an invited speaker for many organizations and updates. She has authored many articles in peer reviewed journals and is the principle investigator in several clinical trials. In 2001 through 2003, she was listed among the top internists in New Orleans Magazine. 

From 1999 to 2006, Dr. Subramanim served as Interim Chief of Cardiology. During that time she recruited several new faculty members including an interventionalist, an echocardiographer/nuclear medicine specialist with special interests in teaching, and an electrophysiologist,
Coordinator, Residency Cardiology Lectures
Coordinator & Preceptor, Cardiology Training for Family Practice Residents
Committees & Administrative Responsibilities
President, American Association of Physicians of Indian Origin, Louisiana Chapter
Editorial Board, Journal of the Louisiana State Medical Society
Glancy DL, Wilklow FE, Devarapalli SK, Subramaniam PN, et al. Sequential heart murmurs in a 43 year old man with congenital heart disease. Baylor University Medical Center Proc. 2007; 20 (4): 406-407. 
Glancy DL, Breaux DM, Subramaniam PN, Pappas ND. Management of acute ST-segment elevation myocardial infarction. I. Reperfusion therapy. J La State Med Soc 2002;154:183-190.
Glancy DL, Subramaniam PN, Pappas ND, Lewis RS. Management of acute ST-segment elevation myocardial infarction. II. Beyond reperfusion. J La State Med Soc 2002;154:235-240.
Vijayagopal, P and Subramaniam P. Effect of Calcium Channel Blockers on Proteoglycan Synthesis by Vascular Smooth Muscle Cells and Low Density Lipoprotein-Proteoglycan Interaction. Atherosclerosis 157 (2001) 353-36.
Subramaniam PN. Coronary Artery Disease in Women. Internal Medicine. Volume 18; No. 5; 31-44. May 1997.
Legardeur B, Thuang C, Hecker M, Lopez A, Subramaniam PN, and Trosclair G. Clinical physical findings in Coronary Heart Disease. Southern Society of Clinical Investigations. 1994.
Chuang CZ, Subramaniam PN, Trosclair G, Legardeur B and Lopez A. Serum Levels of Retinol, Alpha tocopherol, carotenoids and lipid components in an Indian population with high percentage of vegetarianism. Southern Society of Clinical Investigations. 1994.