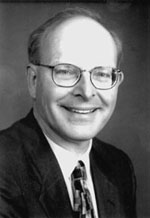 William J. Swartz, PhD
Emeritus Professor of Cell Biology & Anatomy
1901 Perdido Street
New Orleans, LA 70112
Phone: (504) 568-4022
Fax: (504) 568-4392

wswart@lsuhsc.edu
BS - 1965
University of Detroit
PhD Anatomy - 1971
Loyola University Stritch School of Medicine
Research
Research interests focus on the response of the female reproductive system to pesticides possessing estrogenic activity. Target tissues, such as the ovary and the uterus, are evaluated following toxic exposure in both pregnant and non-pregnant subjects. Evaluations of alterations in both the normal progression of developmental stages of these organs following exposure either pre- or post-natally and of alterations in the expression of normal adult physiological reproductive activities following toxic exposure in either pre-pubertal or adult stages are carried out with appropriate biomarkers. This research aims to target specific cell types within reproductive tissues that serve as specific sites of action of estrogenic pesticides. Assessments of the fertility of the individual and underlying bases for the induced disruption of fertility following such exposures are the end points of this research program.
Swarz, W.J., and V.P. Eroschenko, Neonatal exposure to technical methoxxychlor alters pregnancy outcome in female mice, Reprod. Toxicol. in press, 1999.
Green, J.D., J.M. Mwatibo, and W.J. Swartz, The effects of methoxychlor on early sea urchin development, Environmental Res. 72:56-64, 1997.
Eroschenko, V.P., W.J. Swartz, and L.C. Ford, Decreased superovulation in adult mice following exposure to technical methoychlor, Reprod. Toxicol. 11:807-814, 1997.