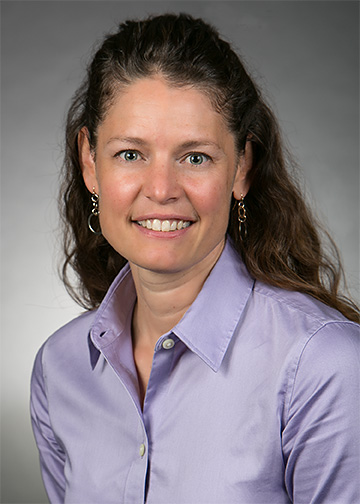 Associate Professor of Otorhinolaryngology &
Biocommunications and Neuroscience,
Adjunct Associate Professor of Ophthalmology
Neuroscience Center of Excellence
School of Medicine, LSU Health
2020 Gravier Street, 8th Floor
New Orleans, LA 70112

Email:JLentz@lsuhsc.edu

Office: (504) 599-0400

Lab: (504) 599-0892
Fax: (504) 599-0891
BA, Biology and Chemistry, May 1992, Monmouth College, Monmouth, Illinois

PhD, Genetics, May, 2007, Louisiana State University Health Sciences Center, Louisiana
 
Jennifer J. Lentz Laboratory for Usher syndrome Research
The overall goal of my research is to develop a therapeutic approach to prevent or cure the deafness and blindness associated with Usher syndrome (Usher), the most common genetic cause of combined deafness and blindness.  Currently, there are 3 clinical sub-types of Usher syndrome based on the severity and age of onset of deafness and blindness, and in some patients, the presence of vestibular areflexia (balance disorder).  Genetically, there are 12 known genes associated with Usher syndrome; 6 for Usher type 1, 3 for Usher type 2, and 2 for Usher type 3.  At LSUHSC-NO we focus on Usher syndrome type 1C, which affects the Acadian populations of south Louisiana and Canada.  Approximately 2.5% of Usher cases are caused by mutations in the USH1C gene, which encodes the protein harmonin. The USH1C.216G>A (216A) mutation accounts for nearly all cases of Usher 1 in Acadian populations.  This mutation creates a cryptic splice site that is used preferentially over the authentic splice site of exon 3, which results in a frameshift that creates a stop codon in exon 4, thus producing a  truncated harmonin protein.  My laboratory created a model of USH1C by knocking-in the 216A mutation responsible for the combined deafness, blindness and vestibular dysfunction in an Acadian patient of south Louisiana.  The Usher mutant mice also have profound congenital deafness, vestibular dysfunction and retinal degeneration characteristic of human Usher.  My laboratory uses this Usher mouse model to understand the underlying mechanisms that lead to the dual sensory loss associated with Usher syndrome, and to develop therapies aimed at preventing or curing deafness and blindness.
 
Membership in Professional Organizations
The Association for Research in Otolaryngology
The Association for Research in Vision and Ophthalmology
Society for Neuroscience
Association for Women in Science

Current Funding
Donation to LSU Foundation for Usher Syndrome Research (PI: Lentz)
Eye on Jacob Foundation and Helping Hunter, 2014
Usher 2020 Foundation, 2014 - 2017
Ush One See Foundation, 2017
 

Cajun Strong, Community and Science Bolter lives of Deaf-Blind in Acadiana. Phyllis Boudoin Griffard. Louisiana Cultural Vistas, June 2017.
Hearing in the mouse of Usher. JV Brigande. Nature Biotechnology News and Views, February, 2017, 35(3):216-218.
Rescue from Hearing Loss in Usher's Syndrome , Karen B. Avraham, Ph.D. New England Journal of Medicine, 2013; 369:1758-1760 October 31, 2013 DOI: 10.1056/NEJMcibr1311048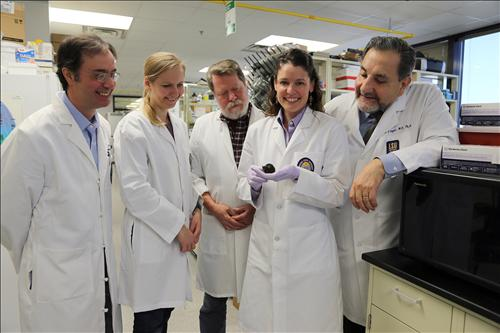 Dr. Hamilton Farris, Mette Flatt, Dr. William Gordon,
Dr. Jennifer Lentz and the mouse and Dr. Nicolas Bazan (the research team)
 
Local medical research team makes breakthrough in curing deafness. Meg Farris, WWWLTV.com, February, 4 2013.
link to page

Genetic Patch 'stops deafness' in newborn mice. J. Gallagher, BBC News Health, February 4, 2013.

Researchers Develop Rx for Deafness, Impaired Balance in Mouse Model of Usher syndrome. Provided by LSUHSC to Science Daily via EurekaAlert!, February 4, 2013.

Scientists Prevent Development of Deafness in Animals Engineered to have Usher Syndrome. Provided by RFUMC to Science Daily via EurekaAlert!, February 4, 2013.

Researchers Devolop Rx fro Deafness, Impaired Balance in Mouse Model of Usher Syndrome. Provided by LSUHSC, Science Newsline Medicine & Health Care. February 4, 2013.

Gene Therapy in mice gives hope to the deaf. A France-Presse, The Raw Story, February 4, 2013.

Partial fix for Usher syndrome found in mice. The Associated Press, USA Today, February, 9, 2013.

Molecular therapy: Deafness Diverted. Nature Publishing Group, February 13, 2013.

LSU Health Sciences Center Discovers Breakthrough Therapy to Cure Deafness. J Ballard, Silicon Bayou News, February 19, 2013