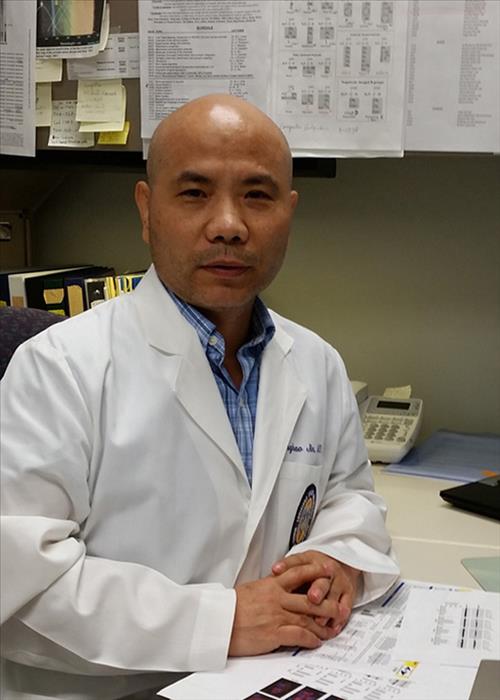 Professor of Neuroscience and Ophthalmology
Neuroscience Center of Excellence
School of Medicine, LSU Health
2020 Gravier St. New Orleans, LA 70112

Tel: 504-568-2141

FAX: 504-568-5801
In The News

Dr. Jin, has identified a protein that protects retinal photoreceptor cells from degeneration  caused by light damage. This result may provide a new therapeutic target for both an inherited retinal degenerative disease and age-related macular degeneration. (Li, S, et al., "Fatty Acid Transport Protein 4 (FATP4) Prevents Light-Induced Degeneration of Cone and Rod Photoreceptors by Inhibiting RPE65 Isomerase" J Neurosci. 2013 Feb 13;33(7):3178-89)
Education
1993-2000: Postdoc, Kyoto University & Osaka University Graduate School of Medicine, Japan
1989-1993: Ph.D., Graduate School of Chinese Academy of Agriculture Science, Beijing, China
1989-1992: Graduate research at the School of Medicine Chiba University, Chiba, Japan
2020-current: Professor of Ophthalmology and Neuroscience
 Neuroscience Center of Excellence, School of Medicine LSUHSC, New Orleans, LA
 
2014-2019: Associate Professor of Ophthalmology and Neuroscience
Neuroscience Center of Excellence, School of Medicine LSUHSC, New Orleans, LA
 
2008-2014: Assistant Professor of Ophthalmology and Neuroscience
Neuroscience Center of Excellence, School of Medicine LSUHSC, New Orleans, LA
 
2001-2008: Assistant and Associate Research Professor in Ophthalmology
Jules Stein Eye Institute, David Geffen School of Medicine at UCLA, Los Angeles, CA
 
2000-2001: Education and Science Instructor,
Gunma University School of Medicine, Japan
Awards/Recognitions/Lectures
2014: The Morino Foundation for Molecular Science Travel Award
2005: Goho Life Science International Foundation Award
2004: CAAS-Sponsored Second-Class Outstanding Scientist
1997-2000: Japan Science and Technology Agency Scholarship
1992-1994: Education Ministry of Japan-Sponsored Overseas Fellowship
Keywords:

Biochemistry and molecular biology of vision, mechanisms of neurodegeneration, alleviation of retinal degeneration
Current Research:
The long-term goals of our current research are to 1) decipher the mechanisms that regulate the visual cycle in the physiological and pathological conditions, 2) identify the signaling pathways leading to retinal neurodegeneration in mouse models with aberrant visual cycle, and 3) develop viable interventions alleviating neurodegeneration caused by mutations in the visual cycle genes.
The phototransduction that converts light energy into electrical energy and neural signal starts with photoisomerization of 11-cis retinaldehyde (11cRAL) to all-trans isomer in Opsin protein, a G-protein coupled receptor in the retinal photoreceptor neurons. Since an Opsin without 11cRAL chromophore is not responsive to light, sustained vision requires continuous regeneration of the light sensitive visual pigment consisting of an 11cRAL and an Opsin protein. In vertebrate eyes, the visual pigment is generated via the visual cycle, a series of enzymatic reactions taking place in the photoreceptor neurons and the retinal pigment epithelium. Dysfunction in any proteins involved in the visual cycle causes vision impairment and retinal degenerative diseases such as Leber's congenital amaurosis and retinitis pigmentosa. Although the visual cycle is essential for sustaining vision, its intermediates and byproducts are toxic to cells and are involved in the pathogenic mechanisms for Stargardt disease and age-related macular degeneration.
To achieve the research goals, we are currently focusing on 1) screening for new regulators of the visual cycle, 2) generation and characterization of new mouse models for retinal diseases, and 3) pharmacological rescue of photoreceptor function in mouse models of retinal degeneration. We use molecular biology, biochemistry, electrophysiology, and mouse genetics to accomplish these research projects
Summer Undergraduate Program in Neurosciences
Neuro 203 - Investigative Neuroscience, Graduate Students
Neuro 250 - Molecular Neurobiology, Graduate Students
CSI100/200 - Clinical Skills Integration/Journal club, 1st and 2nd year medical students
Committees & Administrative Responsibilities
2012 – present, Research Enhancement Committee/Internal Funding Review Panel
2013 – present, Committee on Communications
2014 – Present, Sabbatical Leave Review Committee
2015 – Present, Faculty Development and Evaluation Committee
2016 – Present, International Travel Review Committee
Selected Publications
Additional Info
      Funding
Mechanisms that regulate RPE65 isomerase in normal and blindness-associated RPE Principal Investigator (PI): M. Jin, NIH-R01EY028572
RPE apical proteins that regulate the visual cycle
PI: M. Jin, NIH-R21EY028255
Funding

Regulation of normal and Leber congenital amaurosis-associated RPE65s; Investigator: M. Jin, NIH-1R01EY021208-01A1