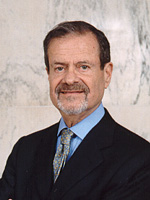 Howard J. Osofsky, M.D., Ph.D.
Kathleen and John Bricker Chair and Professor of Psychiatry
1542 Tulane Avenue, Room 228
New Orleans, LA 70112
Phone: (504) 568-6004
hosofs@lsuhsc.edu
Osofsky H.J. and Osofsky M.J: Dead Man Talking., Journal of the American Medical Association Vol. 287, No. 24. pp. 3181-3182, June 26, 2002.
Osofsky JD and Osofsky HJ: Traumatized Young Children and Families: Understanding the Impact and Ways to Help Them Heal., Journal of Infant, Child and Adolescent Psychotherapy, (in press).
Osofsky HJ and Osofsky JD: Children's Exposure to Community Violence: Psychoanalytic Perspectives on Evaluation and Treatment, in Sklarew B, Wilkinson S and Twemlow S (Eds.), Violence and Transmission of Trauma: Analytically Informed Interventions in the Community Analytic Press, New York, (in press).
Osofsky MJ and Osofsky HJ: The Psychological Experiences of Security Officers Who Work With Executions, Psychiatry: Interpersonal and Biological Processes, (in press).
Osofsky HJ and Osofsky MJ: Like Father, Like Son: A Psychoanalytic Approach to Interviewing in Extreme Circumstances, Psychoanalytic Inquiry, (in press).
A fellow of the American Psychiatric Association (APA) and a Diplomat of the American Board of Psychiatry and Neurology, Howard J. Osofsky, M.D., Ph.D., is also certified by the American Psychoanalytic Association.  He is the author or editor of several books and has written or co-authored more than 90 papers.  He is especially well known for developing programs for high-risk individuals across the life cycle.  Many of these programs have come to serve as national models.  He is nationally and internationally recognized as a leader for his effects to help children and families exposed to violence, terrorism, and warfare.

 Locally he has received recognition from the New Orleans Police Foundation related to mental health evaluations of prospective NOPD recruits, their Badge of Honor Award in recognition of outstanding commitment to rebuilding the strength of the New Orleans Police Department. More recently, he received the Orleans Parish Medical Society's Award for Outstanding Excellence in Public Service/Public Education and the Mayor's Medal of Honor for outstanding contributions to the city.  Nationally, the American Academy of Child and Adolescent Psychiatry honored him with their first award for the Best Chair of a Department of Psychiatry because of his numerous efforts on behalf of children and adolescents.  Recently on the anniversary of Hurricane Katrina, August 29, 2006, Dr. Osofsky received an honor "Tribute to Katrina Heroes" by the Contemporary Arts Center, New Orleans, LA for his work in the community after Hurricane Katrina.

 In 2007, he was recognized by Family Service of Greater New Orleans for outstanding service to the community and by the St. Bernard Parish School Board for outstanding service to students and faculty.  In 2007, he also received the Sarah Haley Award for Clinical Excellence from the International Society for Traumatic Stress Studies.This year 2009, Dr. Osofsky received the Public Citizen of the Year Award from the Louisiana State Social Workers and was honored as a "Hero" from the St. Bernard Project Women's Leadership Council of United Way for the quality of mental health and resilience building services to a community.