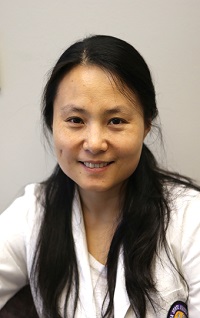 Assistant Professor - Research
2020 Gravier Street, Suite D

New Orleans, LA 70112

Office: (504) 559-0912

Lab: (504) 568-2057

Fax: (504) 599-0891

EMAIL: xtian@lsuhsc.edu

 

 
Ph.D. in Developmental Biology, 2000 – 2006 
Washington University in St. Louis, School of Medicine, USA
B. S. in Biochemistry, 1992 – 1996
East China University of Science and Technology, Shanghai, China.
Feb, 2016 – Present     Assistant Professor-Research
Neuroscience Center &
Department of Cell Biology and Anatomy
Louisiana State University Health Sciences Center 
Jan, 2009 – Jan, 2016   Postdoctoral Researcher
Neuroscience Center,
Louisiana State University Health Sciences Center
Jun. 2007 – Dec. 2008   Postdoctoral Researcher
Department of Pathology and Immunology,
Washington University in St. Louis, School of Medicine
My research focuses on understanding how specific neurons and neural circuits regulate systemic aging. We recently identified a role of a small population of dopaminergic neurons in regulating longevity in fruit fly. Characterization of the aging-related dopaminergic circuits holds the key to understanding how brain orchestrates aging and lifespan control.
In addition to studying the link between the high-order brain circuits and aging, I am also interested in the cellular degradation pathways that promote cellular homeostasis. Malfunction in the clearance mechanisms contributes to a range of human diseases including neural developmental and neurodegenerative disorders. Our recent studies demonstrated that, Mask, a putative scaffolding protein with RNA binding capacity, play essential functions in the cell through its regulation on lysosome function and autophagic activity, as well as microtubule dynamics. Overexpressing Mask in specific neurons is beneficial to aging and neurodegeneration. Future studies will focus on unravelling the conserved mechanisms through which Mask confers beneficial effects in post mitotic neurons.
Investigative Neuroscince
Cellular and Molecular Biology (Inter122)
Clinical Skill Intergration (CSI100 & 200)
Interprofessional Edducation (IPE)
Committees & Administrative Responsibilities
Subbatical Leave Committee