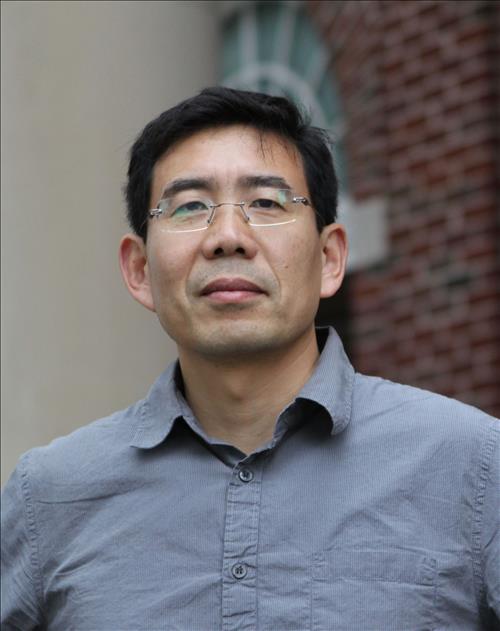 Associate Professor of Neuroscience, Cell Biology and Anatomy
 
Neuroscience Center of Excellence
School of Medicine, LSU Health

2020 Gravier Street, Suite D
New Orleans, LA 70112

Phone: (504) 568-2007

Lab: (504) 599-0851

Fax: (504) 568-5801

cwu@lsuhsc.edu
2002-2008: Postdoctoral fellow, Washington University in St. Louis

1997-2002: Ph.D., Washington University in St. Louis

1994-1997: M.Sc., Shanghai Institute of Biochemistry, Chinese Academy of Sciences, Shanghai, China

1990-1994: B.Sc., Sichuan University, Chengdu, China
2014-Present: AssociateProfessor of Cell Biology and Anatomy, and Neuroscience; Neuroscience Center of Excellence, LSU Health
2008-2014t: Assistant Professor of Cell Biology and Anatomy, and Neuroscience; Neuroscience Center of Excellence, LSU Health Sciences Center, New Orleans, LA
The goals of my research are to identify the molecular pathways and matrix that shape the connection, structure and strength of synaptic connections formed during development, and to study how defects in neural development are linked to many neurological disorders. Using Drosophila as a model system, we combine genetic, cell biological, biochemical and proteomic approaches to identify novel molecules that play essential roles in neural development and neurodegeneration.
Keywords:
Synaptic formation, active zone, neurodegeneration, synaptic development and plasticity.
Key Recent Papers
Xiao-Peng Xiong, Weihong Liang, Wei Liu, Shiyu Xu, Jian-Liang Li, Antonio Tito, Julia Situ, Daniel Martinez, Chunlai Wu, Ranjan J Perera, Sheng Zhang, Rui Zhou. (2022) The circular RNA Edis regulates neurodevelopment and innate immunity. PLoS Genetics. Oct 27;18(10):e1010429. doi: 10.1371/journal.pgen.1010429. PMID: 36301822
Daniel Martinez, Mingwei Zhu, Jessie J. Guidry, Niles Majeste, Hui Mao, Sarah T. Yanofsky, Xiaolin Tian and Chunlai Wu. (2021) Mask, the Drosophila Ankyrin Repeat and KH domain-containing protein, regulates microtubule dynamics. Journal of Cell Science. 134, jcs258512. doi:10.1242/jcs.258512
Mingwei Zhu, Sheng Zhang, Xiaolin Tian and Chunlai Wu. (2017) Mask mitigates MAPT- and FUS-induced degeneration by enhancing autophagy through lysosomal acidification. Autophay. 13 : 1924-1938. PMCID: 5788473
Keng Chen, Chwee Tat Koe, Zhanyuan Benny Xing, Xiaolin Tian, Fabrizio Rossi, Cheng Wang, Quan Tang, Wenhui Zong, Wan Jin Hong, Reshma Taneja, Fengwei Yu, Cayetano Gonzalez, Chunlai Wu, Sharyn Endow, and Hongyan Wang. (2016) Arl2 and Msps-dependent microtubule growth governs asymmetric division.Journal of Cell Biology. 212(6): 661-676
Haneui Bae, Shirui Chen, John P. Roche, Minrong Ai, Chunlai Wu, Aaron DiAntonio, and Rthan R. Graf. (2016) Rab-3-GEF controls active zone development at the Drosophila neuromuscular junction. eNeuro. 3(2) e0031-16.2016 1-19
Mingwei Zhu, Xia Li, Xiaolin Tian, Chunlai Wu. (2015) Mask loss-of-function rescues mitochondrial impairment and muscle degeneration of Drosophila pink1 and parkin mutants.  Human Molecular Genetics. 24(11): 3272-3285.
Long Li, Xiaolin Tian, Mingwei Zhu, Dinara Bulgari, Mathias A. Böhme, Fabian Goettfert, Carolin Wichmann, Stephan J. Sigrist, Edwin S. Levitan and Chunlai Wu. (2014)  Drosophila Syd-1, Liprin-α and PP2A B' subunit Wrd function in a linear pathway to prevent ectopic accumulation of synaptic materials in distal axons. Journal of Neuroscience.
Jina Yun, Rajat Puri, Huan Yang, Michael A. Lizzio, Chunlai Wu, Zu-hang Sheng and Ming Guo. (2014) MUL1 acts in parallel to the PINK1/parkin pathway in regulating mitofusin and compensating for loss of PINK1/parkin.eLife. 3:e01958
(website: http://elifesciences.org/content/3/e01958)
E.J. Brace, Chunlai Wu, and Aaron DiAntonio. (2014) SkpA restrains synaptic terminal growth during development and promotes axonal degeneration following injury. Journal of Neuroscience.
Xiaolin Tian, Mingwei Zhu, Long Li and Chunlai Wu. (2013)  Identifying protein-protein interaction in Drosophila adult heads by tandem affinity purification (TAP).  The Journal of Visualized Experiments (JOVE). (82). doi: 10.3791/50968
Xiaolin Tian and Chunlai Wu. (2013) The role of ubiquitin-mediated pathways in regulating synaptic development, axonal degeneration and regeneration: insight from fly and worm.  PMID: 23613532. The Journal of Physiology
Xiaolin Tian, Jing Li, Vera Valakh, Aaron DiAntonio, and Chunlai Wu. (2011). Drosophila Rae1 controls the abundance of the ubiquitin ligase Highwire in post-mitotic neurons. Nature Neuroscience 14, 1267-1275. PMID: 21874015, PMCID: PMC3183334
Chunlai Wu, Richard W. Daniels, and Aaron DiAntonio. (2007). DFsn collaborates with Highwire to down-regulate the Wallenda/DLK kinase and restrain synaptic terminal growth. Neural Development 2:16. PMID: 17697379
Chunlai Wu, Yogesh P. Wairkar, Cathrine A. Collins, and Aaron DiAntonio. (2005). Highwire function at the Drosophila neuromuscular junction: spatial, structural, and temporal requirements. Journal of Neuroscience25, 9557-9566. PMID: 16237161