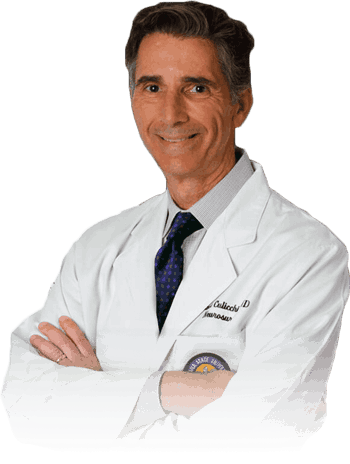 Dr. Frank Culicchia
David G. Kline Professor & Head
Welcome to LSUHSC-NO Department of Neurosurgery
LSUHSC- New Orleans Department of Neurosurgery is committed to providing comprehensive, world-class neurosurgical care while educating and training successful neurosurgeons of tomorrow. Under the leadership of Dr. Frank Culicchia, Chairman of the Department, and Dr. Gabriel Tender, Program Director of the Neurosurgery Residency Program, we place high priority on creating an environment where residents can not only meet but exceed their personal career objectives. The program is comprised of 7 neurosurgeons, who are faculty and associated specialists of the LSU Health Sciences Center. Since its inception in 1968, nearly 50 residents have been successfully trained in our program and have gone on to excel in both academic and private practice neurosurgery.
Our ACGME-accredited Neurosurgery residency training program accepts one and two residents in alternating years. We believe that each resident is different and, while all residents are trained to be proficient in all areas of neurosurgery, we individualize the one year of research based on each resident's desired future subspecialty. The size of our training program allows the faculty to interact closely with residents, creating extraordinary clinical, research, and educational experiences.
Training our residents is one of LSU Neurosurgery's highest priorities, and we take pride in each resident's long-term success. The residency training program is designed to provide each resident with progressive responsibility and well-rounded experience in all areas of neurosurgery. Comprehensive training is assured by rotations through three local hospitals: West Jefferson Medical Center, Children's Hospital of New Orleans, and the University Medical Center, the only Level 1 Trauma Center in the region. Caseloads of approximately 2,000 major neurosurgical procedures present annually to these sites. In addition to these locations, the opening of the VA Medical Center will offer an opportunity to continue to expand the neurosurgical training offered through our Department.
In addition to bedside, operating room, and clinic teaching, educational activities include: Grand Rounds, formal conferences, weekly resident presentations, quality improvement conferences, guest lectures, visiting professors, weekly critical care rounds, and attendance at local meetings. There is also an invaluable Microsurgical Anatomy Lab and cadaver dissections workshop offered annually, a summer-long experience where complex cranial approaches and microsurgical skills can be developed. We offer monthly dedicated wellness activities that foster friendships and relationships between staff and residents, as well as highlight the importance of balance in the lives of our trainees.
We are devoted to preparing the next generation of neurosurgeons, who will carry on the fine tradition of excellence we strive to maintain.
Thank you for your interest in our department. Please explore our website for more information.
Department of Neurosurgery
2021 Perdido Street, 8th Floor
New Orleans, LA 70112
Phone: (504) 568-6120