William K. Accousti, MD
Associate Professor of Clinical Orthopaedics
---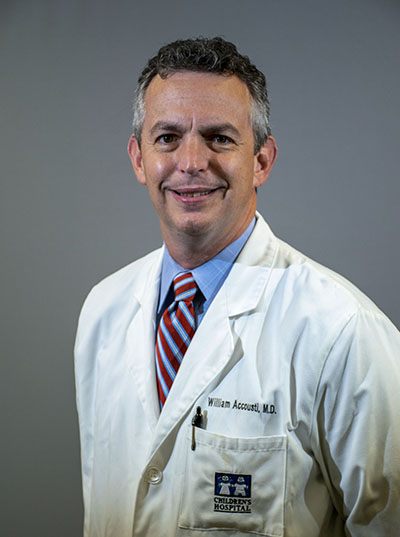 Practice Location:
Children's Hospital - Department of Orthopaedic Surgery
200 Henry Clay Avenue
New Orleans, LA 70118 
(504) 896-9569, Voice
(504) 896-9849, Fax
Academic Office:
1542 Tulane Avenue, T6-7
New Orlans, LA  70112
(504) 568-4680, phone
(504) 568-4466, fax
Degrees
Fellowship:
2002 - Pediatric Orthopaedic Surgery
Children's Hospital
New Orleans, Louisiana
Residency: 
2001 - Orthopaedic Surgery
University of Medicine and Dentistry of New Jersey
New Jersey Medical School
Newark, NJ
MD - 1996
Georgetown Univeristy School of Medicine
Washington, DC

MS - 1992, magna cum laude
GeorgetownUniversityGraduateSchool
Washington, DC
 
BS - 1991
University of Connecticut, cum laude
Storrs, Connecticut
Bio
Dr. Accousti completed his undergraduate training with honors at the University of Connecticut. There he received a Bachelor of Science degree in Molecular and Cell Biology. He subsequently obtained a Master of Science degree in Human Physiology, graduating magna cum laude at Georgetown University Graduate School. Dr. Accousti stayed in Washington, DC to complete his medical degree at Georgetown University School of Medicine. From there Dr. Accousti relocated to New Jersey where he completed his residency training in Orthopaedic Surgery at the University of Medicine and Dentistry of New Jersey- NJ Medical School. His interest in pediatric orthopaedics and scoliosis surgery brought him to New Orleans for additional subspecialty training at Childrens Hospital. Following the fellowship year Dr. Accousti joined the LSUHSC faculty as Assistant Professor of Orthopaedic Surgery in 2002. He maintains an interest in all aspects of pediatric orthopaedic care with a special interest in trauma and spinal deformities.
Clinical Interests
Pediatric Orthopaedic Surgery
Scoliosis and Spinal Deformity Surgery
Ponseti Clubfoot Correction
Juvenile Bunion Deformity
Research Interests
Pediatric trauma
Scoliosis
Download CV