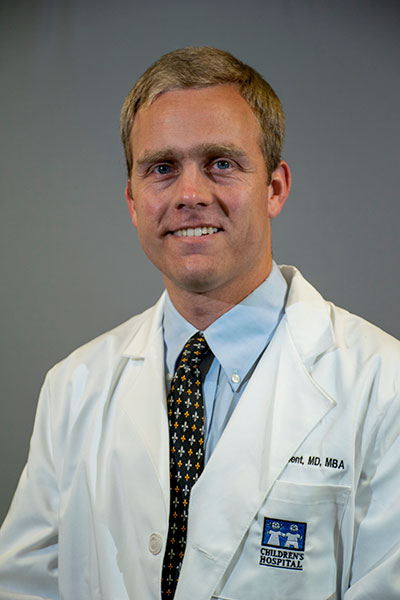 FACULTY
Rutledge Clement
ASSOCIATE PROFESSOR - CLINICAL
Orthopedics
Practice Location:
Children's Hospital - New Orleans
200 Henry Clay Avenue
New Orleans, LA 70118
(504) 896-9569, office
(504) 896-9849, fax

Bio
Carter Clement was born and raised in New Orleans where he graduated from Isidore Newman High School in 2000. He attended Princeton University and subsequently completed his pre-medical studies at Columbia University in New York. Before medical school, he was awarded a fellowship through Princeton-in-Africa to spend a year in Cape Town, South Africa working in HIV capacity building. This experience led him to study both medicine and healthcare management at Penn Med and the Wharton School of Business, graduating with a dual MD/MBA degree in 2012. He then trained in orthopaedic surgery and specialised in pediatric orthopaedics and scoliosis surgery. Dr. Clement has won teaching awards and remains a committed educator; he has served as the department's associate residency director since 2020. He is an active member of the Pediatric Orthopaedic Society of North America and the Scoliosis Research Society. He also has extensive experience and expertise in research, including scoliosis, trauma, and numerous other aspects of orthopaedic surgery. He practices at Children's Hospital of New Orleans as well as clinic sites in Baton Rouge and Monroe.
Education
Fellowship:
2017-2018 - Pediatric Orthopaedics and Scoliosis Surgery
Rady Children's Hospital
San Diego, CA
Residency:
2012-2017 - Orthopaedic Surgery
University of North Carolina
Chapel Hill, NC
Graduate Education:
2012 - M.B.A.
Wharton School of Business
Philadelphia, PA
Medical School:
2012 - M.D.
University of Pennsylvania
Philadelphia, PA
Undergraduate Education:
2004 - B.S.E. in Civil Engineering and Architecture
Princeton University
Princeton, NJ
Clinical Expertise
Scoliosis and Spinal Deformity, Hip Preservation, Pediatric Sports Medicine and Knee Surgery, Cerebral Palsy and Neuromuscular Care, Limb Deformity, Orthopaedic Trauma, and General Pediatric Orthopaedics.
Research Interests
Scoliosis, Orthopaedic Trauma, Medical Education, and Healthcare Management.
Selected Publications
1. Growth-Preserving Instrumentation in Early-onset Scoliosis Patients with Multi-level Congenital Anomalies. Clement RC, Yaszay B, McClung A, Bartley CE, Nabizadeh N, Skaggs DL, Thompson GH, Boachie-Adjei O, Sponseller PD, Shah SA, Sanders JO, Pawelek J, Mundis GM, Akbarnia BA, Growing Spine Study Group. May 2020. Published in Spine Deformity.
2. What are Normal Radiographic Spine and Shoulder Balance Parameters among Adolescent Patients? Clement RC, Bartley EC, Bastrom TP, Upasani VV. Aug 2020. Published in Spine Deformity.

3. Do Hospital or Surgeon Volume affect Outcomes after Surgical Management of Tibial Shaft Fractures? Clement RC, Strassle P, Ostrum RF. May 2020. Published in the Journal of Orthopaedic Trauma.

4. Cost and Cost-effectiveness Analysis of Treatment Options for Sanders II and III Calcaneus Fractures in Laborers. Clement RC, Lang P, Overman R, Ostrum RF, Tennant JN. Jan 2017. Published in the Journal of Orthopaedic Trauma.
5. Spontaneous Healing of a Bucket- handle Posterior Labral Detachment after Hip Dislocation in a 5-year old. Clement RC, Carpenter DL, Cuomo AV. May 2018. Published in the Journal of Bone and Joint Surgery.

6. Refining Risk Adjustment for the Proposed CMS Surgical Hip and Femur Fracture Bundled Payment Program. Cairns MA, Ostrum RF, Clement RC. Feb 2018. Published in the Journal of Bone and Joint Surgery.

7. Clement RC, Bozic KJ, Levin A. Clinical Faceoff: How Will Recent Price Transparency Policies Impact Orthopaedic Surgery? June 2021. Clinical Orthopaedics and Related Research.
8. Medicare Reimbursement and Orthopedic Surgery: Past, Present, and Future. Clement RC, Bhat SB, Clement ME, Krieg JC. Mar 2017. Published in Current Reviews in Musculoskeletal Medicine.

9. Will Medicare Readmission Penalties Motivate Hospitals to Reduce Unplanned Readmissions after Total Hip Arthroplasty? Clement RC, McCauliffe CL, Kheir MM, Derman PB, Flynn D, Speck RM, Levin LS, Fleisher L. Aug 2016. Published in the Journal of Arthroplasty.

10. Orthopedics in the Age of ACO's and Population Health: From Profit-center to Cost-center. Clement RC, Shah K, Campion ER. Sept 2018. Published in the American Journal of Orthopedics.
Podcast Host
Peds Ortho (formerly "The JPO Podcast"), Peds Sports, and Interview with a Pedipod. All available on Apple Podcasts, Spotify, Google Podcasts, etc.
Video