Vinod Dasa, MD
Professor of Clinical Orthopaedics
Director of Research
---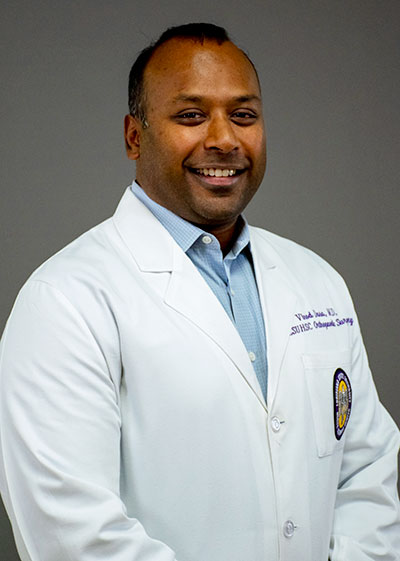 Practice Location:
671 W. Esplanade Avenue
Suite 100
Kenner, LA 70065
(504) 412-1700, Voice
(504) 412-1727, Fax
Academic Office:
1542 Tulane Avenue, Box T6-7
New Orleans, LA 70112
(504) 568-4680, Voice
(504) 568-4466, Fax
Administrative Assistant: 
Edwina Jackson-phillips
ejack9@lsuhsc.edu
Degrees
Fellowship: 
2007 - Adult Reconstruction and Sports Medicine
Insall Scott Kelly Institute
Manhattan, New York
Residency: 
2006 - Orthopaedic Surgery
SUNY at Buffalo
Buffalo, New York
MD - 2001*
Albany Medical College
Albany, New York
BS - 1998*, cum laude
Union College
Schenectady, New York
*BS/MD combined degree program
Bio
Dr. Dasa completed his undergraduate and medical school in the combined degree program at Union College and Albany Medical College in New York. After completing medical school, Dr. Dasa trained in the State University at New York (SUNY) at Buffalo orthopaedic surgery residency program. In 2006 he furthered his training at the Insall Scott Kelly Institute, Manhattan, New York, in Sports Medicine and Joint Replacement Surgery. This fellowship is internationally recognized as one of the pioneers in total knee replacement surgery. 

After completing his fellowship Dr. Dasa and his wife, Dr. Priya Velu, decided to begin their careers as faculty at LSUHSC. His research interests cover all areas of adult orthopaedics, but have primarily focused on joint replacement. In his clinical practice, Dr. Dasa uses gender specific knee replacements, MIS, and computer navigation to treat patients. He has presented his findings at national and international conferences.
Clinical Interests
Sports Medicine 
Joint Replacement Surgery
Research Interests
Joint Replacement
Additional Info
Securely Share Medical Images
Dr Dasa has partnered with mymedicalimages.com to provide a fast and secure way for you to upload your medical images for review.