Vinod Dasa, MD
Professor of Clinical Orthopaedics
Director of Research
---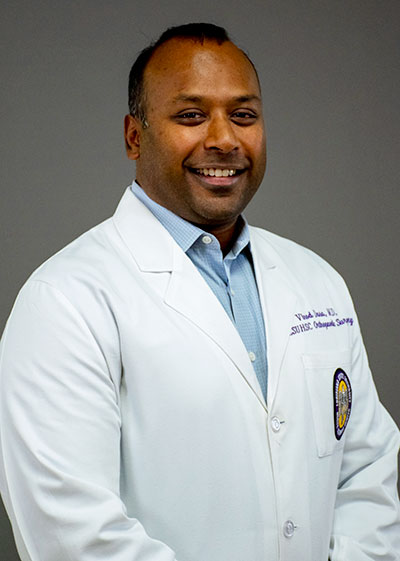 Practice Location:
200 W. Esplanade Avenue
Suite 500
Kenner, LA 70065
(504) 412-1705, Voice
Securely Share Medical Images
Dr Dasa has partnered with mymedicalimages.com to provide a fast and secure way for you to upload your medical images for review.

Academic Office:
1542 Tulane Avenue, Box T6-7
New Orleans, LA 70112
(504) 568-4680, Voice
(504) 568-4466, Fax
Administrative Assistant: 
Edwina Jackson-phillips
ejack9@lsuhsc.edu
Degrees
Fellowship: 
2007 - Adult Reconstruction and Sports Medicine
Insall Scott Kelly Institute
Manhattan, New York
Residency: 
2006 - Orthopaedic Surgery
SUNY at Buffalo
Buffalo, New York
MD - 2001*
Albany Medical College
Albany, New York
BS - 1998*, cum laude
Union College
Schenectady, New York
*BS/MD combined degree program
Bio
Dr. Dasa completed his undergraduate and medical school in the 7 year combined degree program at Union College and Albany Medical College in New York. After completing medical school, Dr. Dasa trained in the State University at New York (SUNY) at Buffalo orthopaedic surgery residency program. In 2006 he furthered his training at the Insall Scott Kelly Institute, Manhattan, New York, in Sports Medicine and Joint Replacement Surgery. This fellowship is internationally recognized as one of the pioneers in total knee replacement surgery.
After completing his fellowship Dr. Dasa and his wife, decided to begin their careers as faculty at LSUHSC to help rebuild post Katrina. In his tenure at LSU he has developed surgical techniques to allow outpatient opioid free total knee replacement and pioneered the use of cutting edge technologies such as iovera. He has presented and published his research internationally in some of the world's leading publications and meetings. He serves in leadership roles both regionally and nationally and was most recently involved in national expert panels to help CMS redesign the delivery of total joint replacements and establish national guidelines on the management of knee arthritis. He currently serves as vice chair for academic affairs for the department of orthopedics, Irvin Cahen endowed chair for research, chair of the LSU clinical practice leadership group. He is the co-founder and chief medical officer for an innovative start up, SIGHT Medical and helped co found a novel medical education platform called DOC SOCIAL. His research interests cover all areas of adult orthopaedics focusing on joint replacement, knee arthritis, health disparities and outcomes research. He is one of the few surgeons in the world performing outpatient opioid free total knee replacements allowing patients to recover in the shortest time possible.
Dr Dasa In the News:
45 tech titans of healthcare Osteoarthritis: Symptoms, Causes, and Treatment iovera° Cryoneurolysis Treatment is Drug-Free Option for Knee Pain The Best Doctors in New Orleans Eastern Ortho On Call, Health Care Disparities in Orthopaedic Surgery LSU Health New Orleans Analysis Highlights Importance of Including Demographic Data in Human Research Papers to Reduce Health Disparities Attention Overview for Rapid Versus Standard Recovery Protocol Is Associated With Improved Recovery of Range of Motion 12 Weeks After Total Knee Arthroplasty The Medical Sales Podcast, Social Media's Impact on The Health Care Industry Cryoneurolysis prior to TKA may reduce opioid prescriptions, improve function Is an opioid-free total knee replacement surgery possible?The Health Me Podcast, Opioid Free Knee Replacements with Vinod Dasa, MDMore than 2/3 of the patients recover from knee replacement without opioidsLinkedin Top Voices in Health Care: The 15 creators to follow 'Kill the pill': Local surgeon reducing patient opioid use with targeted freeze therapyHow Novel Technologies and Opioid Alternatives Can Improve Patient OutcomesFirst U.S. Patients Receive Agili-C™ ImplantsMedical Device Reps Podcast: Dr. Vinod Dasa#29- Ortho Influencers hosted by Scott SigmanHow to Build a Resilient Supply Chain Post COVID-19: OMTECP3: Episode 39: Planning to Reopen for Elective SurgeriesLSU Health Foundation: The New Normal for Surgery in the Post-COVID-19 EraHealthy Living: Knee Surgery, advances in knee replacementAn opiate-free recovery: How LSU Health is Reducing Opioid Use after SurgeryRapid recovery protocol may restore range of motion faster vs standard protocol for TKARapid Recovery Protocol Can Lead to Increased Range of Motion After TKAHow Novel Technologies and Opioid Alternatives Can Improve Patient OutcomesChilling the pain: An innovative device helps reduce severe post-surgery painLSU study could improve knee replacements, and other news of higher education  
Clinical Interests
Sports Medicine 
Joint Replacement Surgery
Research Interests
Joint Replacement
Additional Info