Andrew G. S. King, MD, MB.ChB, FRACS, FACS
Professor of Orthopaedic Surgery & G. Dean MacEwen Chair in Orthopaedic
---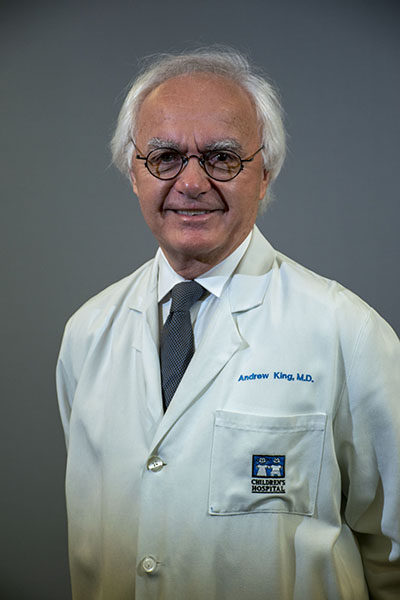 Practice Location:
Children's Hospital
200 Henry Clay Avenue
New Orleans, LA 70118
Phone: (504) 896-9569
Fax: (504) 896-9849
Academic Office:
LSU Health Sciences Center SoM
Department of Orthopaedic Surgery
1542 Tulane Avenue, Box T6-7
New Orleans, LA 70112
(504) 568-4680, Voice
(504) 568-4466, Fax
Degrees
Post Graduate Training: 
1980 - Spinal Surgery
Louisiana State University School of Medicine
New Orleans, Louisiana
1979 - Senior Orthopaedic Registrar
Princess Elizabeth Orthopaedic Hospital
Exeter, England
1975-1979 - Trainee in Orthopaedic Training
New Zealand Orthopaedic Society
1977-1978 - Orthopaedic Registar
Auckland Hospital Board
New Zealand
1975-1976 - Orthoapedic Registar 
Otago Hospital Board
Dunedin, New Zealand
Undergraduate Training:  
1974-1975 - Lecturer in Anatomy
University of Otago Medical School
Dunedin, New Zealand
1972-1974 - Rotating House Surgeon
Wellington Public Hospital
Wellington, New Zealand
1967-1972
University of Otago Medical School
Dunedin, New Zealand
1966-1967
University of Otago
Dunedin, New Zealand
Bio
Dr. King received his medical degree at the University of Otago in New Zealand. He completed his orthopedic residency in New Zealand and spent a year of orthopaedic training in Exeter, England. Dr. King completed a fellowship in spinal surgery at LSU Medical Center in 1980 before joining the faculty at LSU. His interests and research have centered on scoliosis and spinal deformities. Dr. King has lectured and presented research at numerous national and international forums. His research, in conjunction with the Bioengineering Section of the LSU Department of Orthopedic Surgery, has produced methods of spinal instrumentation that are manufactured commercially and available internationally: he is a member of the Scoliosis Research Society and on the advisory board of the Scoliosis Association. Dr. King is past-president of the medical staff of Children's Hospital and has served on the Board of Directors of both Children's Hospital and Kenner Regional Medical Center.  He also served as the 2007 President of the Louisiana Orthopaedic Association.
Research Interests
Scoliosis
Pediatric spine and orthopaedic surgery
Adult spine surgery