J. Monroe Laborde, MD
Assistant Professor of Clinical Orthopaedics
---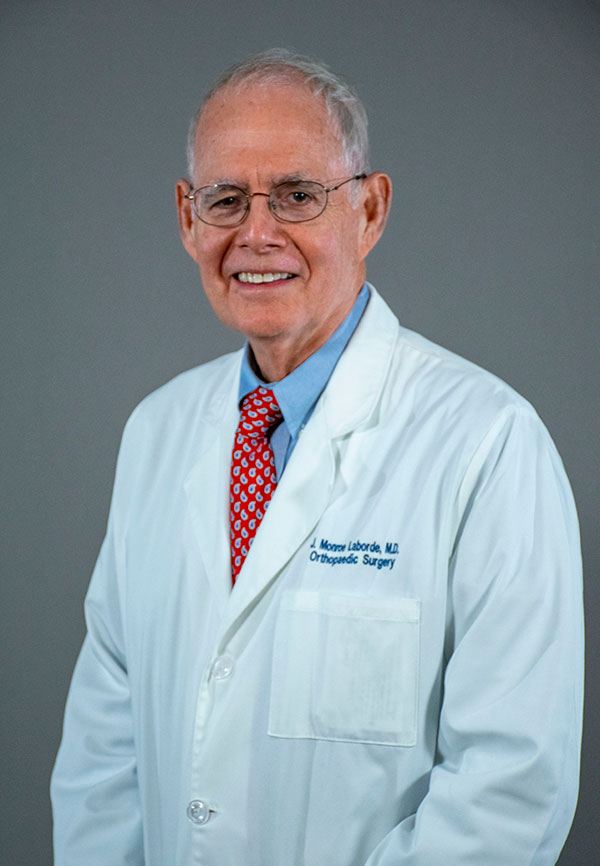 Practice Location:
University Medical Center - NO
2000 Canal Street
New Orleans, LA 70112
(504) 412-1700
Academic Office:
LSU Health Sciences SoM
Department of Orthopaedic Surgery
1542 Tulane Avenue, Box T6-7
New Orleans, LA 70112
(504) 568-4680, Voice
(504) 568-4466, Fax
Degrees
MS - 1976
Biomedical Engineering
Case Western Reserve University
Cleveland, Ohio
MD - 1973
Tulane University
New Orleans, Louisiana
BS - 1969
Engineering, with Honors
Tulane University
New Orleans, Louisiana
Bio
Dr Laborde practices Orthopaedic Surgery at Touro infirmary and is director of foot surgery at LSUHSC in New Orleans, La. He is on the Board of the Academy of Ambulatory Foot & Ankle Surgery, U. of Holy Cross , & Dept of Biomedical Engr, Tulane U. He has over 50 publications on arthritis, spinal problems, biomechanics, chronic pain and foot problems, which have been cited by other authors over 290 times. Seven of his publications were the first publications about various aspects of treatment. He helped developed successful treatments for diabetic foot problems which could potentially prevent up to 1 million amputations a year worldwide.