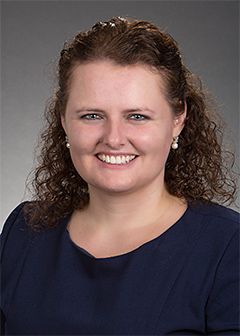 FACULTY
Lacey Adkins, MD
Assistant Professor
Laryngology & Care of the Professional Voice
Biography
Dr. Adkins is a native of South Florida. She received her medical education at the Medical College of Georgia and her Otolaryngology residency training at Georgetown University Hospital. She completed a fellowship in Laryngeal Surgery at Harvard's Massachusetts General Hospital under the instruction of Dr. Steven Zeitels and Dr. James Burns.
Dr. Adkins is a diplomate of the American Board of Otolaryngology, a fellow of the American Academy of Otolaryngology-Head and Neck Surgery, and a board member for the Opera Louisiane. She has publications and presentations on laryngeal surgery simulation, benign laryngeal masses and airway stenosis.
Dr. Adkins sees patients with voice, swallowing or airway disorders, with a special interest in care of the professional voice. She has received extensive training in phonomicrosurgery as well as laser treatment for early glottic cancers and papilloma. She performs many in-office procedures including those addressing vocal cord paralysis, papilloma, dysplasia, spasmodic dysphonia, subglottic stenosis, and neurogenic cough.
Dr. Adkins sees patients at the following location:
Our Lady of the Lake Regional Medical Center
The Voice Center
4950 Essen Lane 4th Floor Ste. B
Baton Rouge, LA 70809