Career Opportunities
Annual Reports
Clinical Services and Contacts
Upcoming Alumni Events
Contact Us
Department Spotlight
Our Lady of the Lake Regional Medical Center has once again been recognized among the best in the nation by US News and World Report in its 2017-2018 "Best Hospitals" rankings. The hospital ranked No.37 out of more than 4,500 medical centers evaluated in the US, placing it in the top 1% nationally.
The Facial Nerve Disorders Multidiscipline Clinic has launched at Our Lady of the Lake RMC in Baton Rouge, LA with extremely positive feedback from patients.  
Dr. Rohan Walvekar's book, "Gland-Preserving Salivary Surgery: A Problem-Based Approach," is to be published by Springer.
Learn About Our Residency Program!
Welcome to the Department of Otolaryngology
The LSU Department of Otolaryngology-Head and Neck Surgery was founded in 1931 as one of the charter surgical departments in the newly created Louisiana State University School of Medicine in New Orleans. Although the geographics of the Department have changed as a result of Hurricane Katrina, our philosophies and commitment to patient care and education have remained the same. 

The Department of Otolaryngology has continued to move forward and flourish. Our residents continue to be among the most sought after applicants and mature into compassionate and competent physicians of whom we can be proud.  Since 1994, graduates of the LSU Otolaryngology-Head and Neck Surgery residency program have had 100% success rate in board certification by the American Board of Otolaryngology.  In the last 20 years, the department has produced about a dozen graduates who went on to pursue careers in academic otolaryngology, and four of these have risen to the rank of department chair or higher. We have also been consistently successful in matching our graduates to exceptional fellowships at institutions such as M.D. Anderson, Sloan-Kettering, University of California at San Francisco, University of Pittsburgh, University of North Carolina, Lahey Clinic, Children's Hospital of Philadelphia and others.

In 2005, Hurricane Katrina forced a major reorganization of our program. We managed to continue our critical objectives of restoring education and patient care by forming new hospital affiliations in nearby cities, incorporating residents and faculty into new training sites, transforming us into a new "regional program".  Our practice now includes University Medical Center, Children's Hospital, Touro Infirmary, West Jefferson Medical Center, the LSU St. Charles Clinic, Our Lady of the Lake Regional Medical Center and LSU Surgical Facility (out-patient) in Baton Rouge; and University Hospital and Clinics and Lafayette General in Lafayette.

We have worked hard at -- and had the good fortune of -- retaining and recruiting a very talented faculty, and as a team we have been able to develop a high-volume tertiary referral practice that serves as the cornerstone of our clinical training program. We have a strong balance of seasoned and experienced senior faculty who have achieved national/international reputations in their respective fields, younger but experienced faculty who are clearly on track toward national recognition, and multiple junior faculty members who have immense potential as innovators and teachers.

We have also dedicated much of our time to research advancements. Dr. Hamilton Farris, Dr. Jennifer Lentz, and Dr. Chu Chen have represented LSU through many publications. Dr. Hamilton Farris was published in Smithsonian Science and Nature Communications in 2011 for research applicable to communication disorders associated with hearing loss and attention deficits or difficulties.  Dr. Jennifer Lentz and associates have made headway in therapy that may rescue hearing and balance in those with Usher Syndrome and Dr. Chu Chen has uncovered possible solutions to memory loss in diseases like Alzheimer's and dementia. Dr. Ikuma Takeshi continues to facilitate the analysis of HSV data using the PVG method, determines the clinically salient PVG features and works on adding new clinically relevant parameters to PVG. We are hopeful that this addition to our research team will help achieve our goal of sustainable funding from the National Institutes of Health on Deafness and Other Communication Disorders (NIDCD).    

The history of the LSU Department of Otolaryngology-Head and Neck Surgery is indeed a rich one. Our experiences have further defined us as resilient, creative, and indefatigable in our missions of patient care, research, and resident education.
---
A Tribute to Mrs. Deanna Loerwald
Administrative Assistant, LSU Department of Otolaryngology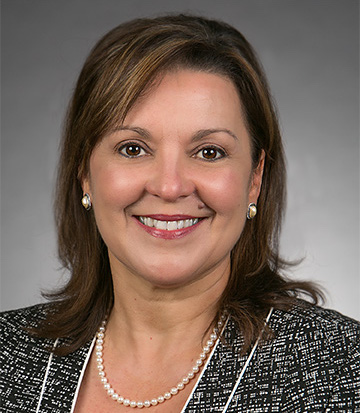 Deanna Loerwald joined the Department of Otolaryngology on October 27, 1988.  She served the Department and the LSU School of Medicine, with distinction, for more than 32 years,  Joyfully for her, but sadly for us, Deanna officially retired January 5th, 2021.  In a COVID-compliant way, we celebrated this wonderful and professional public servant, friend, and beloved co-worker and her many accomplishments with a Virtual Retirement party and a socially distanced luncheon that included a balance of real and virtual participation from faculty, staff and Deanna's family. We thank all those who took time to participate in these events.
In the course of her career, Deanna played an administrative part in the education of over a thousand medical students, and approximately 100 ENT residents, helping them to reach their goals of becoming doctors and surgeons. This is extraordinary by anyone's standards.  Over the years of her tenure, our Department has had many outstanding accomplishments, including national recognition for excellent clinical, educational and research work, and each one of these accomplishments carries Deanna's imprint. All of her many contributions will be remembered for years to come.
We are extremely grateful for all Deanna has given and all she has done.  She has left a legacy here at LSU, offering her special mix of kindness, dedication, and polished professionalism.  We wish her all the blessings of a wonderful retirement: love, happiness, great health, and prosperity.  Many thanks, Mrs. Deanna!