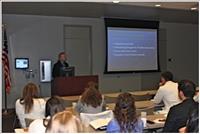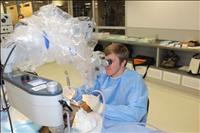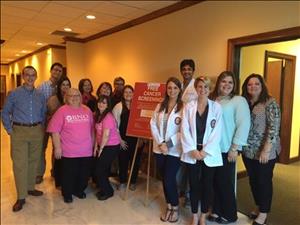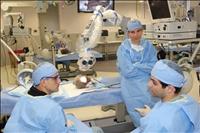 Residency Education
This regional program offers residents an optimal balance of supervision and independent decision-making throughout their training. Residents will find a strong clinical emphasis consistent with LSU's reputation for training qualified and confident clinicians and a robust academic training program that provides a variety of didactic elements each year. We also offer opportunities for continuing medical education (CME) credits throughout the year.
Regional program offers rotations at both public and private institutions
Our Lady of the Lake Regional Medical Center-- Baton Rouge, LA
LSU Health Baton Rouge-- Baton Rouge, LA
University Hospital and Clinics – Lafayette, LA
Children's Hospital-- New Orleans, LA
Medical Center of Louisiana at New Orleans -- New Orleans, LA
Academics and Didactics
Lectures & required reading (clinical and basic science topics)
Conferences

 Weekly Tumor Board (CME)
 Otology and Grand Rounds
 Monthly Didactic Day (CME)

In-depth courses

Head and Neck Anatomy
Audiology and Vestibular Course
Sinus Course

Standardized National Exam
4th Year (L4) Medical Students Education
Course Name and Number: OTOR 420a - Clinical Clerkship
Location: Our Lady of the Lake RMC, Baton Rouge, LA 
                Children's Hospital, New Orleans, LA
Duration: 4 weeks (3 weeks at OLOLRMC and 1 week at Children's Hospital)
Availability:  All blocks, all year 
                    (Also offered as an away rotation for visiting students)
Number of Students:  One visiting student per 4 week block
Objectives: Medical students rotate at OLOLRMC in Baton Rouge and at Children's Hospital in New Orleans. We offer a four-week course with clinical experience in all areas of otorhinolaryngology. The course includes the diagnosis and treatment of head and neck and skull base tumors and diseases, otologic diseases, advanced sinus disease, sleep medicine, voice and swallowing disorders and pediatric diseases. Students also have the opportunity to work with speech and language pathologists in the care of our patients.
Means of Interpretation: Activities are similar to those of an intern. Students participate in in-patient and out-patient care and assist in operative otorhinolaryngology.  Students must engage in self instruction and present cases at grand rounds.
Method of Evaluation: Student evaluations are based entirely upon work performance and level of application during the clinical rotation period. Otorhinolaryngology residents and faculty complete the Department of Surgery evaluation form for each student at the end of the rotation.
Additional Links
American Academy of Otolaryngology
http://www.entnet.org/
American Society of Pediatric Otolaryngology
http://www.aspo.us/
American Board of Otolaryngology
http://www.aboto.org/
Journal of the Association for Research in Otolaryngology
http://www.aro.org/
Rhinology International Journal
http://www.rhinologyjournal.com/
Annals of Otology, Rhinology and Laryngology
http://www.annals.com/welcome.htm