LSU Department
of Otolaryngology
Head and Neck Surgery
Make an Appointment
Otorhinolaryngology Alumni Association
Annual Report
A Decade in Review and a Vision of the Future
---
Alumni Benefits of Membership
Continued involvement by all alumni is one of the things that keep the residency program strong and we are thankful for the continued support of our alumni.  Among the benefits available to members of the Alumni Association of the LSU Department of Otolaryngology – Head & Neck Surgery are:
Monthly CME-Accredited Didactic Day Lectures
Weekly CME-Accredited Wednesday Lectures and Head and Neck Tumor Board Conferences.  (Last year alone, the department provided more than 150 hours of available CME credits for practicing physicians in the community.)
Access to departmental labs, including the temporal bone lab and LSU dissection lab
Annual LSU-ENT Alumni Association Reception, in conjunction with the Academy (AAO-HNS) meeting (if in person events are permitted under the active COVID-19 guidelines/ regulations)
Annual Resident Research and Alumni Day, June 18, 2021, to be held virtually this year.  More information will be provided as the event date nears.
Alumni Spotlight
As we all know, the COVID-19 pandemic had profound effects on the practice of Otolaryngology, affecting everyone—solo private practitioners, small ENT groups, tertiary hospitals, and academic medical centers alike. Unfortunately, COVID hit medical education hard. In the initial months of the pandemic there were reports in the news media focused on how medical trainees, especially residents and medical students, were impacted severely due to a variety of concerns including inadequate supplies of specialty-appropriate personal protective equipment (PPE).
As a concerned alumnus of the LSU Otolaryngology Residency Program and as the proud parent of a recent alumna of the program, Dr. Gerald Pena contacted LSU Otolaryngology Department Chair, Dr. Dan Nuss, who confirmed that obtaining appropriate PPE was indeed a major challenge for our specialty at that time, not only in the hospital but also in the clinics.  As you might imagine, all these COVID-related restrictions were having a significant negative impact on the quality of medical training in ENT.  Dr. Pena found a unique new form of PPE that combined several of the critical elements recommended by the CDC and other health authorities, namely, a reusable face-shield/positive-pressure respirator mask. Dr. Pena arranged for 20-25 of these makes to be delivered at wholesale prices to provide for the needs of the LSU ENT residents.  Through his donation and contributions from other faculty, alumni and friends we were able to successfully provide one unit for each ENT resident. 
Annual Dues
The department conducts a variety of valuable activities that are not supported by institutional funding. These activities are of significant benefit to our alumni, our residents, our students, and to the medical community at large, and we use Alumni Dues to help defray some of the associated costs. In addition, your dues help support resident education by sponsoring research awards and defraying the costs of travel to academic and scientific meetings, where residents present papers showcasing their work in the LSU program.
Click here to download form to join or renew membership
---
Graduate Statistics
Between 1986-2009:
LSU has trained 70% of Louisiana's ENT physicians
All Otolaryngologists ABO certified
100% ABO certification rate, on 1st attempt, for all candidates in the past 10 years
87 graduates of program
21 female, 66 male
19 entered academic fellowships
 66 in full-time private practice of ENT

51 in Louisiana
15 in other states
---
Alumnus of the Year Award Recipients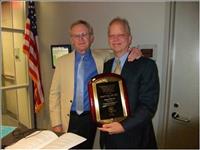 2020: Mary A. Fazekas-May, MD
2019: Jennifer Hanby, MD
2018: Anna Maria Pou, MD
2017: Kevin McLaughlin, MD
2016: Justin M. Tenney, MD
2015: Laura T. Hetzler, MD
2014: Daniel W. Nuss, MD
2013: Robert G. Peden, MD
2012: George Lyons, MD
2011: Michael Hagmann, MD
2010: R. Graham Boyce, MD
2009: Evelyn Kluka, MD 
2008: Michael D. DiLeo, MD
2007: Jeffrey Joseph, MD
2006: Alumni Day not held
2005: Robin Barry, MD
2004: Bradley J. Chastant, MD
2003: R. Patrick Cecola, MD
2002: Charles I. Berlin, PhD
2001: Doug Webster, MD
2000: Herb Marks, MD
1999: Louis Cucinotta, MD
1998: Jim Creely, MD
1997: Ray Lousteau, MD
Support The Department of Otolaryngology's mission of Education, Research, and Patient Care.
Donate Now