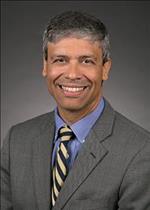 FACULTY
Moises A. Arriaga, MD, MBA, FACS
Clinical Professor
Otology, Neurotology & Cranial Base Surgery
Biography
Dr. Moisés A. Arriaga, MD, MBA, FACS is the Bullington Professor of Hearing Research and serves as Director of Otology – Neurotology and Clinical Professor of Otolaryngology and Neurosurgery. Dr. Arriaga is a native of New Orleans and received his medical education at Brown University Medical School, General Surgery Internship at Ochsner Foundation, Otolaryngology – Head and Neck Surgery Residency at the University of Pittsburgh, and Neurotology Fellowship at the House Ear Institute in Los Angeles.
From 1991 to 1996 he served as Director of Neurotology for the US Air Force at Wilford Hall Medical Center Lackland AFB in San Antonio, TX., and attained the rank of Lieutenant Colonel. From 1996-2005 he entered private practice as president of Pittsburgh Ear Associates and the Pittsburgh Ear Research Foundation. During this time he was Clinical Associate Professor of Otolaryngology at the University Of Pittsburgh Department of Otolaryngology. He supplemented his medical training with an MBA from Alvernia College in 2004.
Dr. Arriaga is a diplomate of the American Board of Otolaryngology with certification in both Otolaryngology and Neurotology. He is Past President of the American Neurotology Society and Past President of the Otoslcerosis Study Group. He is a Fellow of the American Otological Society and a fellow of the American College of Surgeons, and a member of the North American Skull Base Society. He is a member of the Triological Society. He edited or co-edited more than ten textbooks, authored more than forty book chapters and over 150 publications in scientific journals. He lectures regularly at national and international ear surgery and temporal bone dissection courses and serves on numerous national committees and professional journal review and editorial boards.
Dr. Arriaga's clinical practice and research interests are focused on medical and surgical treatment of disorders of the Ear, Hearing, Balance, Facial Nerve, Acoustic Neuroma and Skull Base Tumors. He is the Director of the LSU Acoustic Neuroma Center of Excellence, Director of the Our Lady of the Lake Hearing and Balance Center in Baton Rouge, The CNC Hearing and Balance Center in New Orleans at West Jefferson Hospital, and the director of the Cochlear Implant Programs at Childrens Hospital in New Orleans and the Our Lady of the Lake Childrens Hospital.
Dr. Arriaga is the founder and program director of the ACMGE accredited Neurotology Fellowship at LSU and serves as investigator and co-PI on multidisciplinary studies of Usher's syndrome hearing, acoustic tumor management, implantable hearing devices, chronic ear disease and hearing loss and general health outcomes.
Dr. Arriaga sees patients at the following location:
CNC Hearing & Balance
1111 Medical Center Blvd, Suite S-630
Marrero, LA 70072

Our Lady of the Lake Regional Medical Center
Hearing and Balance Center
7777 Hennessy Boulevard, Suite 709
Baton Rouge, LA 70808