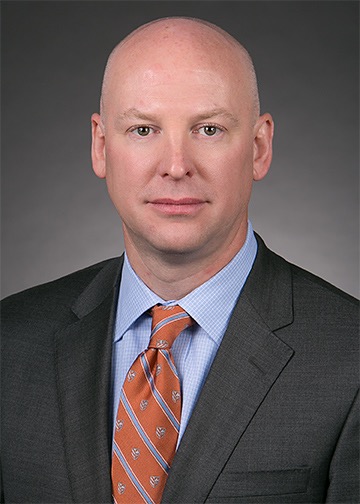 FACULTY
Andrew J. McWhorter, MD
Professor
Vice Chair for Development
Laryngology & Care of the Professional Voice
Biography
Andrew J. McWhorter MD is originally from Cincinnati Ohio but has made his home in Louisiana for the past 20 years. His earned his undergraduate degree in biomedical engineering from Vanderbilt University and his medical degree from Johns Hopkins University School of Medicine in 1995. He stayed in Baltimore to complete both his general surgery internship and his residency in otolaryngology – head and neck surgery. During residency he completed his research elective at the MD Anderson Cancer Center. In 2001, he completed his fellowship in laryngology and care of the professional voice at the Vanderbilt Voice Center under Dr. Robert Ossoff.
Dr. McWhorter joined the LSU Otolaryngology faculty in 2001 where he was recruited as the first fellowship trained laryngologist in Louisiana and the Gulf Coast. He expanded the LSU Voice Center, first created by George Lyons MD, and recruited Dr. Melda Kunduk PhD CCC-SLP to join him from the University of Wisconsin. Based on his interest in laryngeal cancer and conservation laryngeal surgery he pursued further training in Belgium, France and Germany.
To better meet the needs of the state, Dr. McWhorter initiated a new collaboration with Our Lady of the Lake Regional Medical Center with the creation of the OLOL/LSU Voice Center in Baton Rouge. This fortuitous timing provided a new home for the department during the difficult time of transition following Hurricane Katrina along with the creation of a new residency site at Earl K Long Medical Center. LSU His practice encompasses all areas of laryngology with an emphasis in laryngeal cancer. His primary areas of research are improving functional outcomes in head and neck cancer and high speed digital imaging of the larynx. Dr. McWhorter currently serves on the head & neck multidisciplinary care team (MDC) at Mary Bird Perkins – Our Lady of the Lake Cancer Center
Dr. McWhorter is a professor in the department of otolaryngology – head and neck surgery in the Louisiana State University Health Sciences Center and is the director of the OLOL/LSU Voice Center. In 2022, Dr. McWhorter was appointed the Vice Chair for Development in the LSU Department of Otolaryngolgy.
Dr. McWhorter sees patients at the below location:
Our Lady of the Lake Regional Medical Center
The Voice Center
4950 Essen Lane 4th Floor Ste. B
Baton Rouge, LA 70809