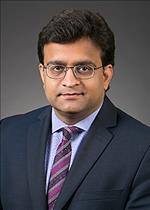 FACULTY
Rahul Mehta, MD, MS, FRCS
Associate Professor
Otology, Neurotology & Rhinology
Biography
Rahul Mehta, MD earned his degree in medicine from Utkal University and went on to complete his residency in Otolaryngology from Northern Ireland Higher Surgical Training Program. He passed Otolaryngology Head & Neck Surgery Boards from Royal College of Surgeons of Edinburgh. He also completed his Diploma in Otolaryngology Head & Neck Surgery from Royal College of Surgeons of England. Dr. Mehta then pursued two clinical fellowships – first in Rhinology from Union Memorial Hospital and second in Skull Base Surgery and Advanced otology/neurotology from LSU/Our Lady of Lake Hearing and Balance Center. He worked as an attending in Oxford University Hospital, England before joining LSU. He holds an academic position of Associate Professor of Clinical Otorhinolaryngology at LSU. He is recipient of prestigious Nicholas Torok award from American Neurotology Society. He serves on Surgical Education Committee of North American Skull Base Society and co- directs the society's annual Skull Base dissection course for the neurosurgery residents and head neck surgery fellows.
He treats all aspects of ear related problems including hearing loss, deafness, chronic ear infections, tumors/cancers of temporal bone/lateral skull base, facial nerve disorders and balance problems. He offers medical and surgical (cochlear implants, mastoidectomy, stapedotomy, BAHA, translab, temporal bone resection etc) options for these problems.
He has special interest in Endoscopic ear surgery and has presented nationally and internationally on this topic. He is a member of International Working Group on Endoscopic Ear Surgery. LSU Otology Neurotology offers its patients this minimally invasive approach for performing ear surgery. Few centers in the US offer this approach and it is fast gaining popularity worldwide. Instead of making a large postauricular incision this approach utilizes rigid endoscopes via ear canal to fix problems like tympanic membrane perforation, conductive hearing loss or cholesteatoma. Dr Rahul Mehta has the largest series of Endoscopic ear surgery cases in Louisiana. He has presented his results nationally and internationally. He also teaches this approach to his residents, fellows and general ENT surgeons.
By virtue of his dual fellowship Dr Mehta is among few surgeons who offer and teach endoscopic anterior skull base surgery (pituitary surgery etc) along with lateral skull base surgery.
Dr Mehta has been selected as one of "The Best Doctors in America" 2019-2020. In special recognition for his tireless efforts as mentor and teacher Dr Mehta received Distinguished Teaching Award in 2020.
Dr. Mehta sees patients at the following location:
Our Lady of the Lake Regional Medical Center
Hearing and Balance Center
7777 Hennessy Boulevard, Suite 709
Baton Rouge, LA 70808