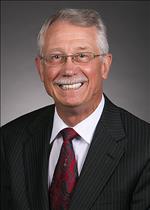 FACULTY
Robert Robert G. Peden, MD G. Peden, MD
Clinical Associate Professor Clinical Associate Professor
Otolaryngology - Head & Neck Surgery Otolaryngology - Head & Neck Surgery
Biography
Dr. Robert G. Peden, a Board Certified Comprehensive Otolaryngologist, attended LSU Medical School in New Orleans. After graduation, Dr. Peden completed a residency in Otolaryngology-Head and Neck Surgery under Dr. George Lyons and Dr. Mervin Trail. He also had additional in residency training in Facial Plastic and Reconstructive surgery by Dr. Jack Anderson. Dr. Peden built a very successful private practice in Baton Rouge, Louisiana and invited several younger Otolaryngologists into the practice prior to relocating to another state. Upon returning to Louisiana Dr. Daniel Nuss, Chair of the Department of Otolaryngology-Head and Neck Surgery at LSUSOM, extended the position of Assistant Clinical Professor to Dr. Peden and he then advanced to Associate Clinical Professor of Otolaryngology-Head and Neck Surgery.
Dr. Peden is Clinical Site Director and Sectional Chief of LSU Health Baton Rouge Outpatient ENT Clinics which are Resident clinical education and surgical training sites. He is also the Medical Director of Outpatient Clinical and Surgical Services and oversees General Surgery, Ophthalmology, Orthopedics and Oral Surgery. Additional responsibilities include Director of Temporal Bone Lab and oversite of monthly Resident Journal Club. Dr. Peden recently stepped down as Director of the weekly Mary Bird Perkins Cancer Center's Head and Neck Tumor Board after 10+ years. He is an avid pedagogue and Resident advocate who continually seeks ways to enhance education in medicine.
Medical missions trips to numerous countries have also been an integral part of Dr. Peden's activities in past years. He is also a volunteer in community oral cancer screening clinics for Mary Bird Perkins Cancer Center.
On a personal note, Dr. Peden is an avid outdoorsman who enjoys gardening, hunting, fishing and traveling.
Dr. Peden Sees Patients at the Following Location:
LSU Health Baton Rouge
9032 Perkins Road
Baton Rouge, LA 70810