Pain Medicine Fellowship - LSU New Orleans
The LSU section of PM&R offers a one-year, ACGME-accredited fellowship in pain medicine for physicians who have completed or will complete a US-based ACGME-accredited residency in a primary specialty that is an ABMS parent of pain medicine. The fellowship program works to develop the special skills necessary for effective diagnosis and therapeutic management of the broad spectrum of pain problems seen in all segments of the population. In addition, the pain medicine fellow participates in the section's clinical research projects.
5 positions available per year
ACGME accredited program since 2005
We do not start fellows off cycle.
All fellows have to be able to start the program on July 1st.
Randolph Roig, M.D. is the Program Director.
The Section of PM&R of the Department of Internal Medicine administers the Pain Medicine Fellowship.
We do not sponsor visas at this time, so all applicants must be US citizens or permanent residents.

must be eligible to get a Louisiana License to practice medicine in order to be considered

Application Documents for the 2020-2021 academic year will only be accepted via ERAS (only standard ERAS documents are required) and the NRMP Fellowship Match 

Applicants must be ABMS board eligible by the July 1st start date in a parent specialty, e.g., Anesthesiology, PM&R, Psychiatry, Neurology, Emergency Medicine, Radiology, or Family Medicine.    
Do not send extra documents via email or mail as they are not required.  

Pain Medicine Fellowship falls under the December cycle. Please see ERAS for details. It is listed as a subspecialty of Anesthesiology. 
All applicants who will be considered for interviews will be notified in April/May to discuss scheduling of the interviews.  We will communicate with you via email only if you are selected for an interview. 
LSU Pain Medicine Fellowship Training (Multidisciplinary) Program is 1 of the 10 Programs with Physical Medicine and Rehabilitation as its Core Related Specialty. 
There are a total of 102 Accredited Pain Medicine Fellowship Training (Multidisciplinary) Programs in the United States.
Overall Program Goals and Objectives
Demonstrate competencies in the following areas
Multidisciplinary setting with the pain medicine physician in the leadership role of the team.
Become proficient in all aspects of care provided to persons with acute, subacute and chronic pain syndromes
Learn administrative skills in program development and evaluation, team leadership, and quality improvement
Perform history and physical examinations
Participate in inpatient service rounds and outpatient clinics
Develop proficiency in teaching and supervising medical students, residents and others who rotate in the program.
Demonstrate Competencies in

Compassionate, effective patient care
Medical knowledge, and apply to patient care
Practice-based leaning
Communication skills
Professionalism
Systems-based practice
IMPORTANT DATES - will be updated when available on NRMP
http://www.nrmp.org/match-calendars/ 
6/_/2019: Match Opens at 12:00 p.m. ET
8/_/2019: Ranking Opens at 12:00 p.m. ET
9/12/2019: Quota Change Deadline at 11:59 p.m. ET
9/26/2019: Rank Order List Deadline at 9:00 p.m. ET
10/_/2019 Match Day at 12:00 p.m. ET
For the 2020-2021 academic year, the following documents are required for application via ERAS
Applicants can submit ERAS file starting January 1, 2019

Application deadline March 31, 2019

ERAS CV, personal letter, 3 letters of reference,  (one of these letters must be from your current or past resident program director) 
Below is the link to NRMP Pain Fellowship match which is listed under Anesthesiology specialty matches.  
Interviews start Spring 2019
Randolph Roig, MD
Program Director, LSU Pain Medicine Fellowship Training Program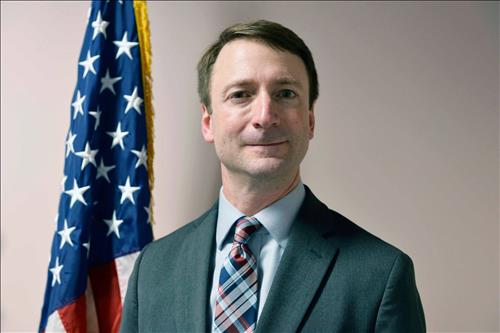 LSU HSC PM&R/Pain Medicine
1542 Tulane Ave, Box T4M-2
New Orleans, LA 70112
Point of Contact: Program Coordinator, Sara Miller
Office: 504-568-2577 Fax: 504-568-2127  
*preferred contact via Email: smil24@lsuhsc.edu
Pharmacologic Management of Cancer Pain: A Review
Casey Murphy, M.D., Harry Gould, M.D. Ph.D., Randolph Roig, M.D.
LSU Section of Physical Medicine & Rehabilitation (PM&R) and LSU Pain Medicine,
Department of Internal Medicine, LSU Health Sciences Center 
Southeast Louisiana Veterans Health Care System, Section of Pain Medicine, PM&R Service, New Orleans, Louisiana
Presented at 28th Annual LSU Medicine Research Day of 2018, Poster #36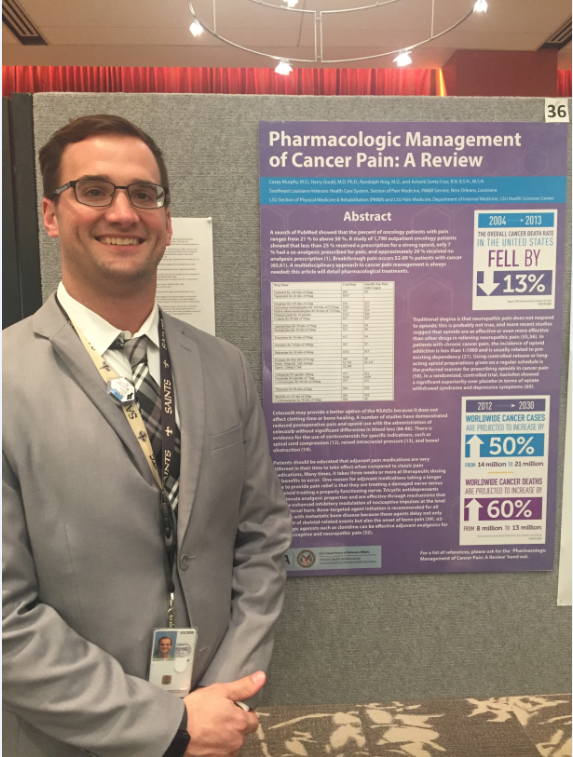 A Case Report of Caudal Epidural Steroid Injection
Kelly Paulk, M.D., Casey Murphy, M.D., Randolph Roig, M.D. 
LSU Section of Physical Medicine & Rehabilitation (PM&R) and LSU Pain Medicine, Department of Internal Medicine, LSU Health Sciences Center 
Southeast Louisiana Veterans Health Care System, Section of Pain Medicine, PM&R Service, New Orleans, Louisiana
Presented at 28th Annual LSU Medicine Research Day of 2018, Poster #41