New Orleans
There are 1,250,247 people in the New Orleans metropolitan area.
In 2018 New Orleans celebrated her tricentennial. After 300 years, the history, art, and ethnicities have developed into a rich, vibrant culture like no other.  We are proud of our diversity and it keeps things exciting. 
The summers are hot and humid but the winters are mild. Locals say that the four seasons in NOLA are Carnival (Mardi Gras), Crawfish, Hurricane and Football.  We like to eat; there are more than 1400 restaurants and some pretty spectacular food trucks lining the streets.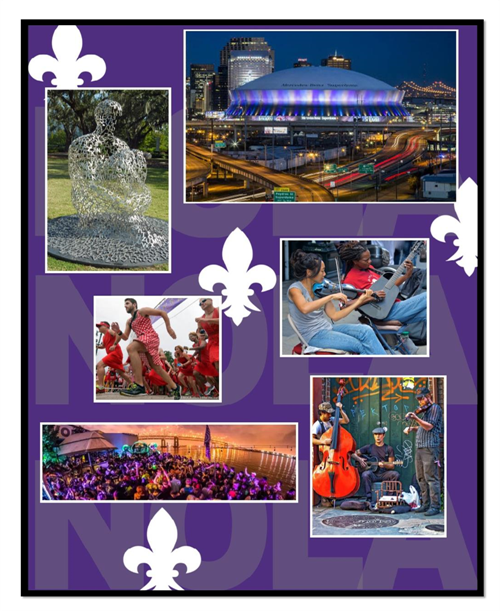 Known as "The City that Care Forgot," New Orleans is always bustling with excitement. After all, it's home to Bourbon St., the largest free party in the world.  Any time of any day, this street in the heart of the French Quarter serves as an outdoor mall of entertainment for thousands of revelers.  There are dance clubs, jazz halls, karaoke bars, street performers and many more to tickle even the pickiest fancy. 
If you'd like a break from the frenzy of Bourbon St, just a two block walk in any direction will take you to one of the many live theaters in town, including Le Petit Theatre du Vieux Carre, the oldest community theater in the United States. 
Indeed, the rich history of the city adds an elegant charm to every scene, song and silhouette within.  Home to such literary knowns as William Faulkner, Tennessee Williams and Anne Rice, New Orleans offers one of the wealthiest offerings of drama, musicals, comedy clubs, chamber music and art galleries that you'll find in any metropolitan area.
Enjoy fishing? Hunting? New Orleans has it all. Surrounded by water, fishing is more than a hobby for New Orleanians.  And with dense marsh, grass, and woodlands a stone's throw away, no wonder Louisiana's license plate reads "Sportsman's Paradise." 
Do you like pro football, basketball, baseball, rugby or soccer? Sports fans have more than enough to keep them busy with the Saints, Pelicans, and other professional teams in town.  There's a reason New Orleans has hosted more Super Bowls than any other city, it's tailgate heaven.
Then, for one month each year, the entire region rings in the Mardi Gras season with parades through every part of town.  Celebrities, bands and floats dance down the streets throwing beads and doubloons.  With a parade somewhere nearly every night, you don't have to go to Mardi Gras. Mardi Gras comes to you!
Commuting to downtown can always be done in a matter of minutes, with the worst rush hour commute taking about half an hour.  Streetcars run through much of the uptown, midcity and downtown areas adding a level of unrivaled class to public transportation.  Finally, whether flying to meet a client or for that last minute trip to the Bahamas, Louis Armstrong International Airport is a short cab ride away.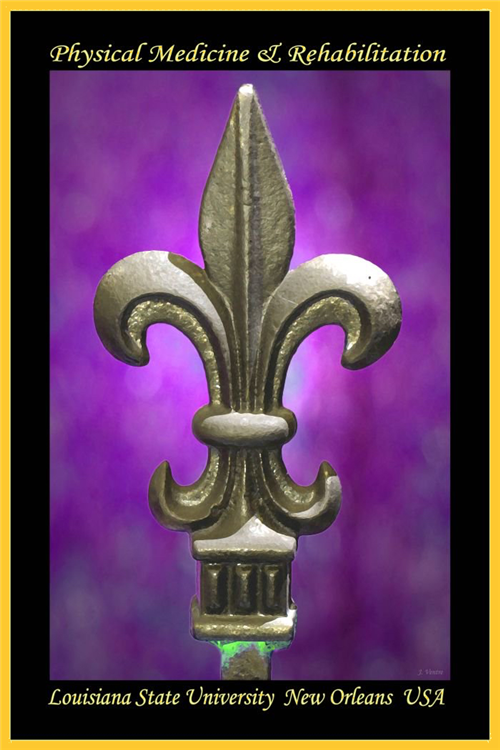 The city is generally "pet friendly" and NOLA is a top city for cyclists. NOLA  has made an effort in recent years to improve access for cyclists, creating more than 100 miles of bikeways.  Parks, museums, and festivals are a short ride from most areas in the city.  Most parks and many of the numerous art, food, cultural and music festivals are free. There is a calendar of events at the bottom of this page.
We have a booming biomedical corridor that draws experts and specialists from across the globe. 
Living in New Orleans is as affordable as it is convenient. The monthly payment on a suburban house is often less than the monthly rent of an efficiency apartment in other cities.
Everyone's heard someone say, "It's a great place to visit, but I wouldn't want to live there."  The opposite is true of New Orleans. That's because there's no way to truly enjoy everything that New Orleans has to offer with just a visit. Whether you're a sportsman, an art fanatic, a dance fiend, or just enjoy friendly crowds, there's something for everyone.
Biosciences
The Greater New Orleans region is not only a robust health services provider and employer, but also a thriving hub of biosciences research. Home to a booming Bio District in downtown New Orleans, multiple colleges and universities with strong biotech-related programs, and unique, cutting-edge research facilities, the region offers a favorable and supportive environment for scientists, innovators, and entrepreneurs alike.
The healthcare and biosciences industry in the Greater New Orleans region benefits from the following regional assets:
Downtown Medical District
At the center of the region's growing BioSciences and Healthcare industry is 1500-acre area in the heart of New Orleans' Downtown Medical District, where leading medical schools, universities, hospitals, and research institutions work to advance bioscience knowledge and where more than $2.3 billion has been invested in new hospital and medical research construction.
State of the Art Research Facilities
The Greater New Orleans region is home to some of the nation's leading research in the areas of cancer, gene therapy, neurosciences, biostatistics, and tropical medicine. This research is conducted at and bolstered by institutions including Tulane and LSU Medical schools and the Louisiana Cancer Research Center.
New Orleans Bioinnovation Center
This 66,000 square-foot incubator is dedicated to fostering entrepreneurship and supporting Louisiana innovators as they develop life-saving new technologies. The Center offers wet-lab, office, and conference space, along with commercialization assistance and financing to help their program teams bring new diagnostics, treatments, or technologies to market.
About the New Orleans Tricentennial
From  2018Nola.com
The 300th Anniversary of New Orleans not only marks where we have been, but also sets the course for where we are going. Our city is becoming safer, schools are improving, and our economy is getting stronger—but we still have work to do in building a bridge to the next 300 years. We are building a new airport, redeveloping our storied riverfront, and creating a 21st-century medical corridor. These efforts, among many others, are creating a pathway to prosperity for all the citizens of New Orleans and securing for the future a NEW New Orleans—where everyone individually does well and, as a result, we as a community do well. Our work toward 2018 has been 300 years in the making. We welcome you to join us in commemorating the past and creating the future.
For the past 300 years, this port city has received people from around the world seeking new lives and prospects. The French influence is prominent from the founding of the City in 1718 until the present day.   There is also a strong Spanish cultural inheritance due to Spanish rule of the city in the 18th century.  Throughout the entire history of the city African Americans, formerly enslaved Africans, and free people of color have influenced the culture and economy of New Orleans.  Additionally, immigrants have come from Ireland, Italy, Germany, Greece, Vietnam and many more nations.  Within New Orleans, Native American, Cajun and Creole peoples have had a profound impact on our culture.  Today we owe many of our celebrations to this diverse heritage including Mardi Gras, the 135 yearly festivals including more than 35 Second Line parades.
Although New Orleans has maintained many of its cultural traditions much has changed.  Our citizens are resilient having endured both manmade and natural disasters the most recent of which was Hurricane Katrina in 2005.  It was a tragedy the City of New Orleans will never forget.  But because of the support from around the world and the resilience of our people the city has been rebuilt better than it was before the storm and we are now creating the city we always dreamed we could be.

2020 New Orleans Festival Calendar
03/11/2020 - Wednesday at the Square Concert Series
03/14/2020 - Irish Channel St. Patrick's Day Parade
03/15/2020 - Mardi Gras Indians Super Sunday
03/18/2020 - New Orleans Wine and Food Experience
03/19/2020 - New Orleans Book Festival
03/19/2020 - Top Taco Fest
03/20/2020 - BUKU Music + Art Project
03/23/2020 - New Orleans Entrepreneur Week
03/25/2020 - Tennessee Williams Literary Festival
03/27/2020 - Hogs for the Cause
03/27/2020 - Saints and Sinners Literary Festival
03/28/2020 - Cajun-Zydeco Festival
April - May- June
04/04/2020 - Freret Street Festival
04/11/2020 - Crescent City Classic
04/12/2020 - Gay Easter Parade
04/16/2020 - French Quarter Festival
04/23/2020 - New Orleans Jazz & Heritage Festival
05/01/2020 - Whitney Zoo-To-Do
05/15/2020 - Bayou Boogaloo
05/22/2020 - Greek Fest
05/30/2020 - Oyster Festival
06/05/2020 - FestiGals
06/13/2020 - French Market Creole Tomato Festival
06/19/2020 - NOLA Caribbean Festival
06/22/2020 - Restaurant Week New Orleans
July - August- September
07/01/2020 - ESSENCE Festival® Presented By Coca-Cola®
07/04/2020 - Go Fourth on the River
07/10/2020 - Running of the Bulls
07/21/2020 - Tales of the Cocktail
07/31/2020 - Satchmo SummerFest
08/08/2020 - Red Dress Run
09/03/2020 - Southern Decadence
October- November-December
10/10/2020 - Carnaval Latino
10/30/2020 - Voodoo Music + Arts Experience
10/31/2020 - Halloween
12/24/2020 - Christmas Eve Bonfires on the Levee
12/31/2020 - Dick Clark's New Year's Rockin' Eve


http://www.neworleansonline.com/