Living in New Orleans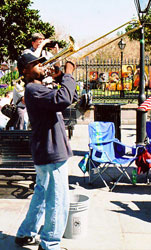 Everyone's heard someone say of a town, "It's a great place to visit, but I wouldn't want to live there."  The opposite is true of New Orleans.  That's because there's no way to truly enjoy everything that New Orleans has to offer with just a visit.Whether you're a sportsman, an art fanatic, a dance fiend, or just enjoy friendly crowds there's something for everyone.
Known as "The City that Care Forgot," New Orleans is always bustling with excitement. After all, it's home to Bourbon St., the largest free party in the world.  Any time of any day, this street in the heart of the French Quarter serves as an outdoor mall of entertainment for thousands of revelers.  There are dance clubs, jazz halls, karaoke bars, street performers and many more to tickle even the pickiest fancy.  Then, for one month each year, the entire region rings in the Mardi Gras season with parades through every part of town.  Celebrities, bands and floats dance down the streets throwing beads and doubloons.  With a parade SOMEWHERE nearly every night, you don't have to go to Mardi Gras-- Mardi Gras comes to you!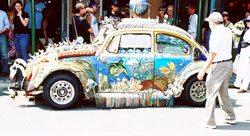 If you'd like a break from the frenzy of Bourbon St, just a two block walk in any direction will take you to one of the many live theaters in town, including Le Petit Theatre du Vieux Carre, the oldest community theater in the United States.  Indeed, the rich history of the city adds an elegant charm to every scene, song and silhouette within.  Home to such literary knowns as William Faulkner, Tennessee Williams and Anne Rice, New Orleans offers one of the wealthiest offerings of drama, musicals, comedy clubs, chamber music and art galleries that you'll find in any metropolitan area.
Enjoy fishing? Hunting? Pro football, basketball, baseball or soccer? New Orleans has it all. Surrounded by water, fishing is more than a hobby for New Orleanians.  And with dense marsh, grass, and woodlands a stone's throw away, no wonder Louisiana's license plate reads "Sportsman's Paradise."  Speaking of wildlife, sports fans have more than enough to keep them busy with the Saints, Pelicans, and other professional teams in town.  There's a reason New Orleans has hosted more Super Bowls than any other city-- it's tailgate HEAVEN!
Eventually, it's time to go home.  And living in New Orleans is as affordable as it is convenient.  The monthly payment on a spacious suburban house is often less than the monthly rent of an efficiency apartment in other cities.  Commuting to downtown can always be done in a matter of minutes, with the worst rush hour commute taking about half an hour.  Streetcars run through much of the uptown, midcity and downtown areas adding a level of unrivaled class to public transportation.  Finally, whether flying to meet a client or for that last minute trip to the Bahamas, Louis Armstrong International Airport is a short cab ride away.

New Orleans Festival Calendar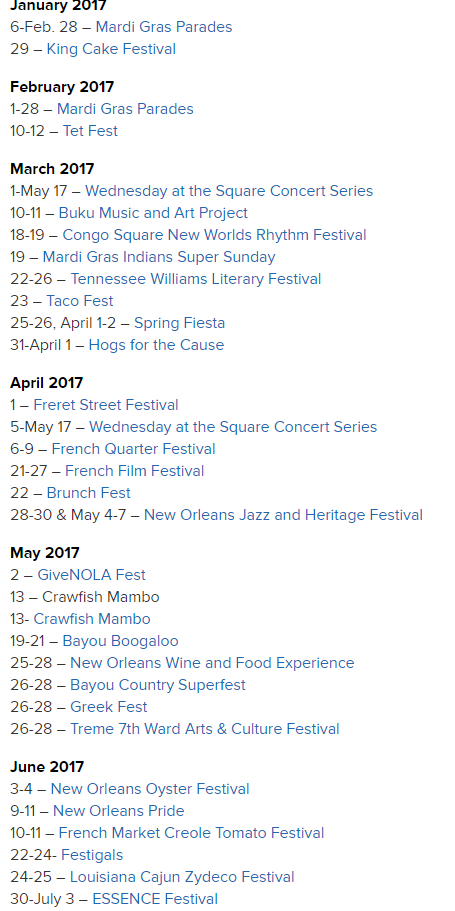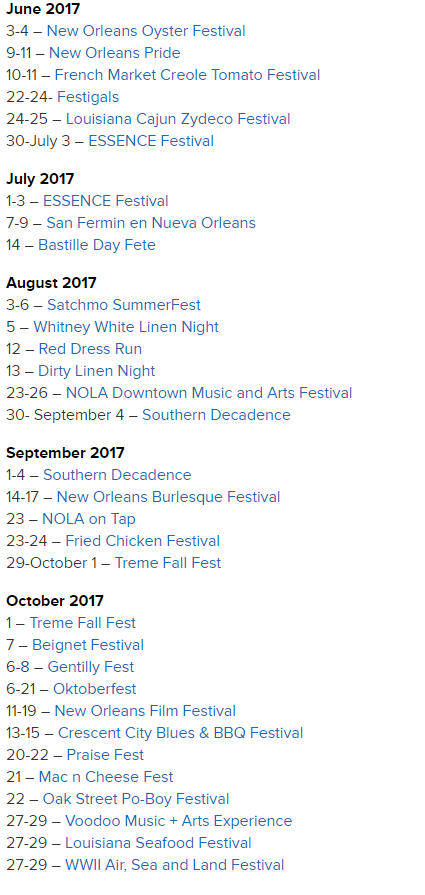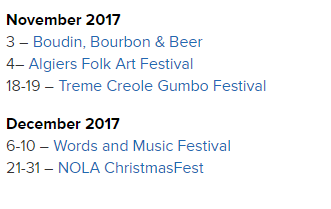 http://www.neworleansonline.com/