What is Physiatry?
•Physical Medicine and Rehabilitation (PM&R) physicians, also known as physiatrists, treat a wide variety  of medical conditions affecting the brain, spinal cord, nerves, bones, joints, ligaments, muscles, and tendons.
•PM&R physicians evaluate and treat injuries, illnesses, and disability, and are experts in designing comprehensive, patient-centered treatment plans. Physiatrists utilize cutting‐edge as well as time‐tested treatments to maximize function and quality of life.
•PM&R physicians treat patients with short- or long-term physical and/or cognitive impairments and disabilities. Learn more about the specific conditions commonly seen by physiatrists.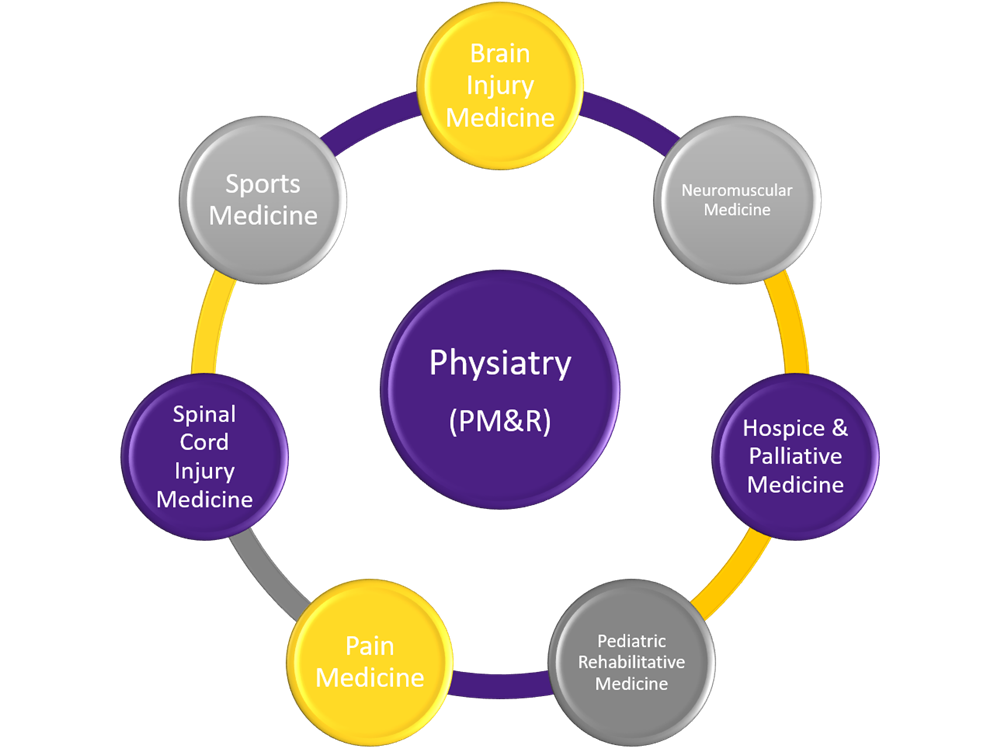 What Conditions Do Physiatrists Treat?
Areas of focus include:
Neurorehabilitation:

Examples: Spinal Cord Injury, Traumatic Brain Injury, Stroke, Multiple Sclerosis, Amyotrophic Lateral Sclerosis, Guillain-Barré, Myasthenia Gravis, Parkinson's Disease

Pain Medicine:

Examples: Chronic Pain Management, Complex Regional Pain Syndrome (previously named Reflex Sympathetic Dystrophy), Back Pain, Arthritis, Carpal Tunnel Syndrome

Musculoskeletal Care:

Examples: Osteoarthritis, Osteoporosis, Rheumatoid Arthritis, Inflammatory Myopathies, Fibromyalgia, Spondyloarthropathies, Back Pain and Sacroiliac Joint Dysfunction
Sports Injuries:

Examples: Achilles Tendonitis, Iliotibial Band Syndrome, Turf Toe, Medial & Lateral Epicondylitis, DeQuervain's Tenosynovitis, Rotator Cuff Pathology, Acromioclavicular Separation, Biceps Tendonitis, Stress Fractures, Concussion

Post-operative Care:

Examples: Joint Replacement, Organ Transplantation, Amputations, Left-Ventricular Assistive Devices, Cardiac / Pulmonary Rehabilitation

Pediatric Functional and Developmental Disorders:

Examples: Cerebral Palsy, Muscular Dystrophy, Spina Bifida, Down Syndrome

Prosthetics and Orthotics:

Examples: Gait and Movement Disorders, Assistive Devices and Ambulation Aids, Spinal Orthoses, Neuro-prostheses

Specialized Rehabilitation:

Examples: Fine Arts (music, dance, vocal), Cancer, Cardiac, Burns, Pulmonary, Family Training (for home care), Pelvic Pain, Alternative and Complementary Medicine, Palliative Care
From the American Academy of Physical Medicine and Rehabilitation  www.aapmr.org/career-center/medical-students/a-medical-student's-guide-to-pm-r/what-conditions-do-physiatrists-treat