Internal Medicine Residency
We are honored that you are considering the LSU Internal Medicine Residency Program for your training. We understand that you're trying to determine which program is the best fit for you and we consider the following areas to be strong points of our program: Diversity of Patients, Outstanding Faculty, Commitment to Education, Life Outside of Residency, and Resources.
LSUHSC New Orleans serves a diverse group of patients with a wide range of medical and social issues. Residents in our program experience pathology that others can only read about in text­books. At Touro Infirmary and Ochs­ner Medical Center Kenner we care mostly for insured, pri­vate patients, while we typically see underinsured patients and the underserved at University Medical Center. Our mission is to care for all patients, regardless of their background or financial status.

Outstanding Faculty
Our program features an outstanding group of faculty with a strong commitment to resident ed­ucation. Our residents work alongside specialists in Cardiology, Endocrinology, Gastroenterolo­gy, Geriatrics, Hematology/Oncology, Infectious Disease, Nephrology, Pulmonary/Critical Care, Rheumatology, Hospitalist and Ambulatory medicine. As a university-based academic institution, many of our faculty are heavily involved in research and are always happy to allow our residents to work alongside them. Dr. Lee Engel, our program directors, works tirelessly to provide our residents with a strong research and publishing experience. In addition, several of our faculty serve as editors and reviewers for regional and national peer-reviewed journals, giving our residents an advantage when it comes to publishing. Furthermore, residents interested in gaining more teaching experience have the opportunity to assist Dr. Catherine Hebert with the Introduction to Clinical Medicine course for first- and second-year medical students. As faculty, we pride ourselves on being very open to feedback in order to constantly improve the educational experience for the residents.
Commitment to Education
At LSUHSC, our primary goal is resident education. Toward that goal, we strive to balance resi­dent autonomy with the appropriate amount of supervision. Residents and interns are encouraged to think independently and form their own care plans with faculty support readily available at all times. We realize that not every resident has the same career goals. Born from feedback of our residents, we have created several optional "tracks" that our residents can follow. The Hospitalist Track, headed by Dr. Najy Masri, offers a curriculum and specialized didactic conferences suited for the development of the skills necessary for inpatient medicine. On the other hand, the Prima­ry Care Track emphasizes education in ambulatory medicine. For residents seeking fellowships we strive to place you in rotations and specialty clinics while on ambulatory to gain more exposure not only to the specialty itself but the fellows and staff in order to form mentorships and research opportunities for your pursuit.
Life Outside of Residency
The LSUHSC Internal Medicine Residency has a diverse, yet unified group of residents. Talk to any of them and you will soon detect their enthusiasm and commitment to the program. We realize that life outside of work is important, so we frequently hold social gatherings to raise morale and foster comradery. Dr. Charles Sanders, the Chair of the Department of Medicine, hosts several parties throughout the year such as a Welcome Barbecue for the Residents, a Christmas Social, and the annual "Taste of New Orle­ans" party. In addition, our residents often organize impromptu events such as crawfish boils and pumpkin carving contests.
Resources
Our residents and interns have 24-hour access to UptoDate while on campus and online access to MD Consult and other journals. LSU Health Sciences Center has an outstanding three-story library on campus which is available to all house officers. In addition all house officers have free access to the fantastic LSUHSC Wellness Center conveniently located on the LSU Campus downtown.
Our program also offers residents the opportunity to publish in the Journal of the Louisiana State Medical Society. Dr. Fred Lopez is the coordinator of the department's Clinical Case of the Month, in which residents and interns from LSU-NO publish cases seen on the wards of our hospital.
The Internal Medicine Department purchases the American College of Physicians' MKSAP Review materials for those who choose to become ACP Associates.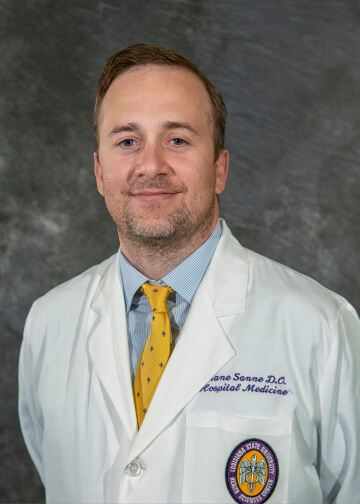 Shane Sanne, MD
Associate Program Director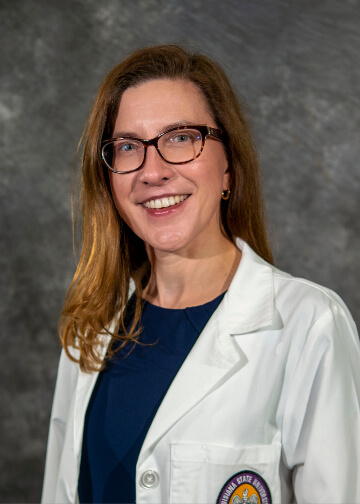 Catherine Hebert, MD
Associate Program Director
Residency Tracks
We strive to create a learning environment that meets the needs of our resident's career goals while meeting the requirements of the ACGME. We created tracks for the three most common fields of medicine our residents pursue Primary Care, Hospital Medicine, and Fellowships.
Primary Care Track
The goal of the primary care track is to get the resident-focused on the skills required to be a successful outpatient clinician. The added training includes two ambulatory months yearly with the focus on areas of interest needed to be an advanced clinician but also areas that are of interest to you as a resident. Additional skills such as point of care ultrasound will be available for your education. Your expert primary care mentors will help guide you in your career path during your three years with regular didactic sessions on a monthly basis. You will get a separate certificate at your graduation acknowledging your participation and completion of the primary care track.
Hospitalist Medicine Track
The hospitalist track consists of a curriculum that focuses on skills needed for those residents interested in a career in hospital medicine. There is additional training in inpatient medicine with individualized mentoring by senior hospitalists, with a focus on those subspecialties that are deemed to be most utilized by a hospitalist. The track also includes a specialized month focusing on procedures and palliative care medicine. It will not require any additional months of training but is rather a revamping of your existing schedule. Those residents that participate in the hospitalist track will get a separate certificate at graduation acknowledging their participation and successful completion of the hospitalist track.
"Fellowship" Track
The fellowship track isn't a true track but instead, our program attempts to help you pursue the fellowship you desire. Each year we send out requests for the upcoming year. We will help you get as much exposure to these fellowships to gain invaluable experience not only in the field but exposure to the fellows and staff. This exposure will allow you to gain insight into pursuing fellowship, ability to participate in research and case write-ups as well as obtaining important letters of recommendation from the subspecialty staff. In addition to these rotations, when in your ambulatory week we will place you in your preferred subspecialty afternoon clinics for additional interactions with the fellows and staff. We remind you that in order to complete residency you will have to meet your ACGME requirements for rotations but we will help you pursue your fellowship goals.
Questions about our program may be directed to:
Susan Lenoir, Program Coordinator
Beth Sutton

, Program Coordinator