Contact Us
Undergraduate Medical Education
Robin English, MD
Associate Dean,
Undergraduate Education
504-568-4620
504-599-1453
2020 Gravier Street, Suite 602
New Orleans, LA 70112
Undergraduate Medical Education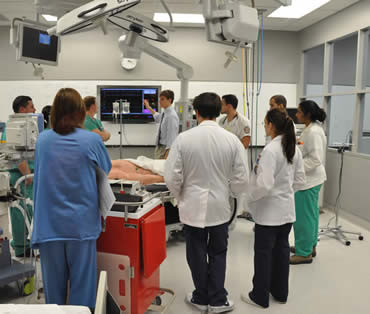 The LSU School of Medicine implemented a significant renewal of the curriculum in 2015-16. The Office of Undergraduate Medical Education led an exciting planning effort that began in 2012-13. This effort involved hundreds of faculty and students, and included school-wide surveys, hours of focus group discussions, a re-organization of the curriculum committee structure, faculty workshops, and countless hours of faculty meetings to conduct detailed planning. There was much about our previous curriculum that was excellent. We retained those elements that work best for students, and made improvements that will facilitate student learning and professional growth.
The primary goals of curriculum renewal are 1) to improve students' critical thinking skills through additional active learning sessions, 2) to decrease the time spent in lecture by eliminating unnecessary redundancies, 3) to provide better integration of clinical and basic sciences, and better integration across the basic science disciplines themselves, and 4) to provide students with more opportunities for early clinical involvement and career exploration. Other goals address some specific content areas in which we felt that we could improve: genetics, behavioral science, interprofessional education, cultural competence, epidemiology, biostatistics, and health systems.
The first year curriculum begins with specific time devoted to professionalism, diagnostic reasoning, and how to 'learn' in medical school. These initial classes are in the Clinical Skills Integration (CSI) 100 course, which continues throughout the year. The CSI 100 course is now more fully integrated with the basic science courses, and provides even greater emphasis on skills instruction and skills assessment than it has in the past. This includes the skills of interviewing, physical exam, procedures, bedside ultrasound, and critical thinking. Foundational courses in gross anatomy, physiology, cell biology, and biochemistry are retained, but reorganized and better integrated with clinical education. Students still take a full dissection gross anatomy course in the first semester, as this has been an area of strength in our curriculum. Separate short courses in genetics, behavioral science, immunology, and population medicine (which includes epidemiology, biostatistics, disease prevention, the structure and financing of our health system, and quality improvement) are added because they are foundational sciences of increasing importance in modern medicine.
The second year curriculum (beginning in 2016-17) is reorganized. The discipline based courses of pathology, clinical pathology, microbiology, and pharmacology are fully integrated into organ system courses that reinforce the clinical context of all instruction. We begin with a course called Foundations of Disease and Therapy, which provides the basic concepts and nomenclature from these disciplines. After this course, the remainder of the year is organized around organ system modules: hematologic, neurologic-psychiatric, musculo-skeletal & dermatologic, cardiovascular, pulmonary, renal, gastro-intestinal, and endocrine-reproductive. The teaching of pathology, microbiology, and pharmacology is integrated in each block, and is organized in a way that emphasizes disease process and management in a clinical framework. The Clinical Skills Integration (CSI) 200course runs throughout the second year and is redesigned to provide even greater opportunities for skills training and feedback, clinical rounds in the hospital, exploration in areas of interest, and career development. The year ends with the Synthesis course, which ties together key concepts from pharmacology and microbiology, and focuses on preparation for the USMLE Step 1 board examination.
The third year begins with the two-week Clerkship Preparation course, in which clinical skills are advanced, clerkship expectations are explained, and professional responsibilities are reviewed. This is followed by required clerkships in family medicine (4 weeks), internal medicine (10 weeks), neurology (3 weeks), obstetrics/gynecology (6 weeks), pediatrics (8 weeks), psychiatry (6 weeks), and surgery (9 weeks). Students also choose one elective (2 weeks) during the junior year. Students will be assigned to most clerkship rotations in New Orleans, but some rotations may be assigned in Baton Rouge or Lafayette. Housing is provided for these assignments. Up to 24 students may elect to do all of their clerkships at our Baton Rouge branch campus, and move to that city for the entire third and fourth year. Students who are selected for the Rural Scholars Track will take all of their junior clerkships at our Lafayette branch campus, and move to that city for the entire third and fourth year.
The fourth year is changed to provide more flexibility in scheduling and more elective time (beginning in 2017-18). Students do a primary acting internship in one of the following disciplines: internal medicine, surgery, pediatrics, obstetrics/gynecology, or family medicine. Senior requirements also include a secondary acting internship (multiple other disciplines and subspecialties are available), a Critical Concepts course (interdisciplinary didactics and simulation exercises followed by emergency department shifts and an ICU rotation), and 4 electives.
Throughout the curriculum, we emphasize critical thinking through the use of concept maps, illness scripts, deliberate practice, self-directed learning, simulation, and ongoing feedback. New pedagogical methods such as team based learning and question analysis are incorporated throughout the curriculum. We believe that these changes will have many positive effects. Students should be better prepared for board exams, for clinical clerkships, for residency, and for practice in today's changing healthcare system.
Robin English, MD
Associate Dean for Undergraduate Education
Catherine "Cacky" Hebert, MD
Director of Clinical Science Curriculum
Ross McCarron, MD
Assistant Director of Clinical Science Curriculum
Jessica Patrick, MD
Assistant Director of Clinical Science Curriculum
Andrew Hollenhach, PhD
Co-Director of Basic Science Curriculum
Joy Sturtevant, PhD
Co-Director of Basic Science Curriculum
Alisa Roy, M.Ed.
Coordinator, Undergraduate Medical Education
Herman Williams
Coordinator, Undergraduate Medical Education
Juayonna Spencer
Coordinator, Undergraduate Medical Education
Office of Undergraduate Medical Education
LSUHSC, School of Medicine
2020 Gravier St., Suite 602
New Orleans, LA 70112
504-568-4620 (Phone)
504-599-1453 (Fax)