Donate to the Deptartment of Neurosurgery
Gifts and donations may be sent to:
Frank Culicchia, MD
Chairman
c/o Wendy Roark
LSU Health Sciences Center
Neurosurgery Department
2020 Gravier Street
7th Floor
New Orleans, LA 70112

Questions about donations can
be directed to Wendy Roark at
wroar1@lsuhsc.edu or
(504) 568-2582
Please help us establish a new endowment at the LSUHSC Department of Neurosurgery.
Our goal is to raise $5 million for the establishment of a Center for treatment and research of Brain tumors. This endowment will allow us to recruit exceptional clinical faculty and cutting edge researchers to the LSU Department of Neurosurgery. Clinicians and researchers working side by side in this center, will deliver the most advanced treatment available while working to find a cure or the prevention of such devastating illness.
Funds donated to this Center will be a lasting gift - it is managed as an investment and exists in perpetuity, the proceeds from the investment used for brain tumor research.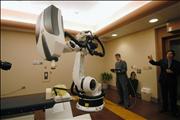 The CyberKnife® Stereotactic Radiosurgery System offers cutting edge treatment for patients with tumors and vascular disorders.