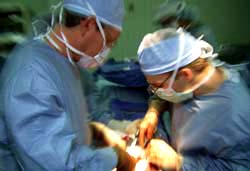 Criteria Used in Selecting Applicants
The LSUHSC School of Medicine in New Orleans is dedicated to providing the opportunity for an excellent medical education to all Louisiana applicants who are prepared to benefit from its curriculum and instruction. To this end, the Admissions Committee will strive to recruit and admit applicants from every geographic, economic, social and cultural dimension of the State of Louisiana or other states within the country. The primary goal of the School of Medicine in New Orleans is to produce competent, humanistic physicians. Those accepted applicants who are not legal residents of Louisiana, will be responsible for out-of-state tuition for the duration of their enrollment. In order to achieve this goal, the School of Medicine finds that having a diverse student body is essential. Diversity in all its forms benefits students by creating a dynamic, productive and positive learning environment that promotes better cross-cultural and cross-racial understanding. Ultimately the benefit of classroom diversity will help the School of Medicine produce individuals who are able to be effective clinicians within a multi-cultural environment.
The Admissions Committee of LSU School of Medicine in New Orleans is charged with making decisions about the acceptance of medical students into its School of Medicine. Once applicants to our medical school have been interviewed, they can be brought before the entire membership of the Admissions Committee at which time a decision will be made to either accept them, reject them, or not to make any final decision upon their application to our School of Medicine until a later time. If the decision by the committee is in the latter category, then the Admissions Committee will meet at a later time to make a final decision on the applicant: either an acceptance or a rejection. The Admissions Committee is comprised of clinical and basic science faculty members, 4th year medical students, administrators, and others from the community-at-large. The Admissions Committee meets approximately every three weeks and continues to accept applicants into LSU School of Medicine in New Orleans until the full enrollment of the entering class has been met in the spring of the application year.
The Committee on Admissions will strive to evaluate all applicants in three major areas: humanitarian qualities, overall excellence, and diversity of experience. As part of this process, any or all of the following criteria will be evaluated:
Academic factors such as recent grades and test scores within the last three years
The strength of the letters of evaluation from faculty from previous academic institutions of higher education
Impressions gained from personal interviews with members of the Admissions Committee
Employment history of the applicant and whether or not he/she had to work to go to college
Demonstrated history of leadership
Demonstrated history of community service
A qualitative and quantitative assessment of the extracurricular activities in which the applicant participated
Special honors that have been awarded to the applicant
Unique personal attributes of the applicant
Hobbies and other interests of the applicant
Socioeconomic background
Where geographically the applicant was raised
A strong motivation to practice in medically underserved areas of the state such as rural communities
Whether there were any factors in the applicant's background that may have hindered him/her from achieving a higher level of academic achievement
The Admissions Committee believes that the proper consideration of such factors should result in our institution matriculating and graduating a representative cross-section of the population within the State of Louisiana and for the country at large.

There is no discrimination because of race, religion, gender, gender identity, sexual orientation, age, disability, national origin, or financial status. Minority students are strongly encouraged to apply, and to consult the www.AspiringDocs.org web site which provides undergraduate minority students with the support, information, and guidance they need to apply to and enroll in medical school. The Office of Diversity and Community Engagement may be reached by calling (504) 568-8501. Dr. Robert T. Maupin is the Associate Dean for this office.
If you are not sure of your residency status as it pertains to the State of Louisiana or you would like information on the residency requirements, you should make an inquiry to Alicia Edwards, Registrar; LSU Health Sciences Center, 433 Bolivar Street, New Orleans, LA 70112. (504) 568-4829. Residencey is determined by the registrar. Here you may fill out the necessary documents and submit to that office. https://www.lsuhsc.edu/registrar/docs/ResidentClassification.pdf
Applications are not accepted from International Students.