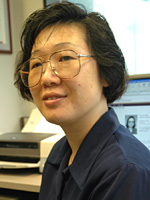 Yan Cui, PhD
Associate Professor of Microbiology, Immunology & Parasitology
533 Bolivar Street
CSRB 601F
New Orleans, LA 70112
Phone: (504) 568-4636
Fax: (504) 568-8500

ycui@lsuhsc.edu
BS Biochemistry - 1985
Peking University, Beijing, China
MS Biophysics - 1988
Peking University, Beijing, China
PhD Biological Sciences - 1995
University of Alberta, Canada
Cancer immunotherapy
Gene Therapy
Zhao, P., Liu, W., and Cui, Y. (2006) Improvement in early dendritic cell engraftment and immune reconstitution post-bone marrow transplantation with heterogeneous progenitors and GM-CSF treatment. Exp Hematol. 34(7):951-64.

Lesniak, M.S., Kelleher, E., Pardoll, D. and Cui, Y. (2005) Targeted gene therapy to antigen-presenting cells in the central nervous system using hematopoietic stem cells. Neurol. Res. 27(8): 820-826.
Cui, Y., Kelleher, E., Straley, E., Fuchs, E., Gorski, K., Levitsky, H, Borrello, I., Civin, C.I., Schoenberger, S.P., Cheng, L., Pardoll, D., and Whartenby, K.A. (2003) Immunotherapy of established tumors using bone marrow transplantation with antigen gene-modified hematopoietic stem cells. Nat. Med. 9:952-958.

Zhou, X., Cui, Y., Huang, X., Yu, Z., Thomas, A.M., Ye, Z., Pardoll, D.M., Jaffee, E.M., and Cheng, L. (2003) Lentivirus-Mediated Gene Transfer and Expression in Established HumanTumor Antigen-Specific Cytotoxic T Cells and Primary Unstimulated T Cells. Human Gene Therapy 14:1089-1105.

Cui, Y., Golob, J., Kelleher, E., Ye, Z, Pardoll, D., and Cheng, L. (2002) Targeting transgene expression to antigen-presenting cells derived from lentivirus-transduced engrafting human hematopoietic stem/progenitor cells. Blood 99:399-408 (Plenary paper with editorial comments).