Dr. Hari K Koul, PhD to present "9th Prof. R.Nath Memorial Oration"
Dr. Hari K Koul, M.Sc., PhD, FACN, FASN - LSUHSC School of Medicine honored to present distinguished Prof R. Nath Memorial Oration, organized by the Postgraduate Institute of Medical Education and Research (PGI), Chandigarh, India. Professor R. Nath was a former Head of the Department of Biochemistry at PGI who had a illustrious career as a researcher and medical educator. He is considered as one of the fathers of Biochemistry in India. PGI is one of the premier medical institutions in India, recognized across the globe.
Dr. Koul , earned his undergraduate education (B.Sc.) in 1984 and Master's degree in (MSc. Biochemistry) in 1986 from Kashmir University Srinagar, Jammu and Kashmir, India . Dr. Koul joined PGI in 1986 and graduated in 1990 with PhD. in Biochemistry, under the mentorship of Dr. R. Nath.
"What an honor!!! to be considered by my alma mater to deliver oration that bears name of my PhD mentor Prof R. Nath. I am humbled by the invitation and accept the honor to be the speaker for this bi-annual oration to be held this month", said Dr. Koul in his acceptance e-mail.
The "9th Prof. R. Nath Memorial Oration" will be via virtual mode on April 7, 2021 at 4PM, IST.
via following Link:
https://telemedicine.webex.com/telemedicine/j.php?MTID=maf152433261ba34e11ecc55a92ed3708
Meeting number: 182 008 3715
Password: biochempgi
Invitation Card:
/biochemistry/docs/Invitaiton Card.pdf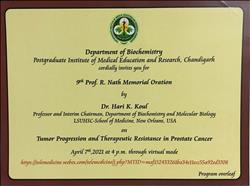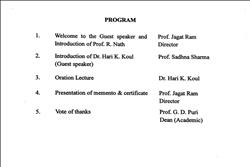 ---