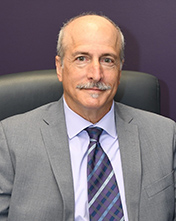 Peter Winsauer, Ph. D.
Interim Head of Biochemistry and Molecular Biology, and L. Allen Barker Professor of Pharmacology
Welcome to the Department of Biochemistry and Molecular Biology, which is one of the six basic science departments that help comprise the LSU Health New Orleans School of Medicine. Our school was founded in 1931 with a dual mission of training outstanding doctors who are committed to care for the underserved, and providing excellent healthcare for the people of Louisiana. An essential component of providing this type of excellent healthcare is state-of-the-art basic science research in biochemistry. As stated in the SRG blog about biochemistry (The Importance of Biochemistry in Medical Science | SRG (srgtalent.com), "biochemistry is a field of science that broaches the two traditional disciplines of biology and chemistry. If chemistry is the science of matter, then biochemistry is the science of living matter." Further, 'much like medical science itself, biochemistry is a vast area of research that yields profound discoveries each year. Biochemical techniques advance our understanding of the chemical structures and processes that underpin human health and disease. Medicine is also just one area that has benefited from biochemistry. The discipline has made vital contributions to many fields, including cell biology, physiology, pathology, pharmacology, microbiology, immunology, nutrition, forensic medicine, and toxicology, as well as in research areas such as inflammation, cell injury, and cancer.'
To conduct this research and educate the next generation of undergraduate, PREP, graduate, and MD/PhD students, we have faculty within the Department that have strong, diverse research interests and foundational knowledge in cancer molecular and cellular biology, neuropeptide and enzyme processing, protein biochemistry, gene promoter and expression analyses, molecular biology of aging, cardiac development, cancer genetics, and molecular epidemiology of cancer. The graduate students and postdoctoral trainees of the department have also gone on to advance biochemical and molecular biology research in a variety of settings, including academic (e.g., Stanford, SUNY, and Yale), government (NIH/NCI), and new industry startups (e.g., Chosen Diagnostic). The MD/PhD students have similarly gone on to prestigious fellowships at top hospitals in many parts of the country. All of these excellent destinations for the trainees of this department are a credit to the faculty and staff of the department and the excellence of the environment in our school of medicine.
Please take some time to look at the departmental website and familiarize yourself with what the department and its faculty and staff have to offer. If you have any questions about the department, please contact us.
Sincerely,



Peter J. Winsauer, Ph.D.
Interim Head of Biochemistry and Molecular Biology,
and L. Allen Barker Professor of Pharmacology