2016 News
---
The Chancellor's Award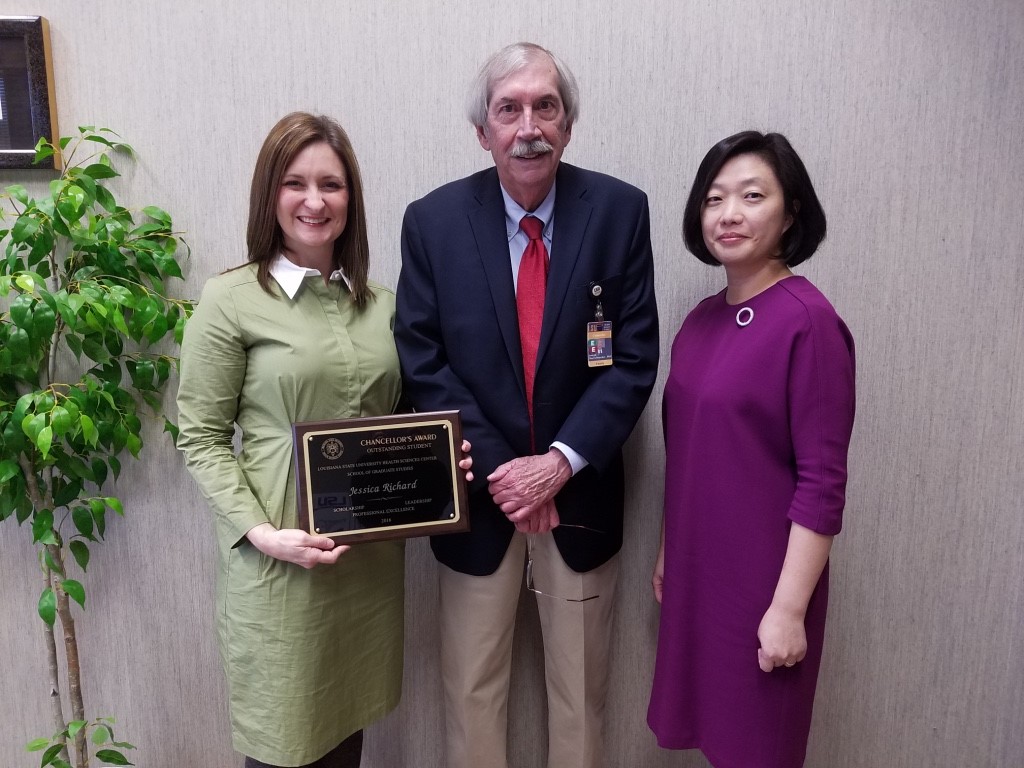 The Department of Biochemistry and Molecular Biology is proud to announce that Dr. Jessica Richard is the 2016 recipient of the Chancellor's Award. The Chancellor's Award is presented annually for scientific excellence, scholarship, and leadership at LSU Health. The award was presented at the 30th Annual Graduate Research Day on Friday, November 4, 2016 in New Orleans.
---
The 2016 Biochallenge Award

Dr. Sunyoung Kim presented the winning pitch for Chosen Diagnostics, a spin-out based on research conducted at the LSU School of Medicine at LSU Health New Orleans. The BioChallenge is an annual startup competition for emerging Louisiana life sciences companies that is developed and presented by the New Orleans BioInnovation Center. Chosen Diagnostics won the grand prize of the 2016 BioChallenge and was also selected as the winner of the Audience Favorite prize, based on audience votes.

The link for the same can be found here: http://www.theadvocate.com/new_orleans/news/business/article_a8727f52-ad23-11e6-a449-6bd5d39cf563.aspx
http://neworleanscitybusiness.com/blog/2016/11/17/chosen-diagnostics-wins-biochallenge-competition/

---
Dr. Suresh Alahari was awarded 4th round of LIFT grant for the project entitled, " A potential inhibitor of breast cancer". The core innovation of this technology is a therapeutic cocktail for the treatment of breast cancer. Dr. Alahari's lab identified for the first time, the functional effect of two microRNAs, miR-27b and miR-23b, as novel regulators of tumor growth (Jin et al, Cancer Research; May 1, 2013, Pages 2884-2896). Based on this key finding, his lab proposed the development and in vivo testing of an anti-cancer therapeutic cocktail composed of nucleotide-based compounds (antagomirs) that target these microRNAs. This funded proposal examines the effect of the novel antagomirs on breast tumor growth.
---
Dr. Suresh Alahari received the 2016 Outstanding Service to the Community Award for selfless acts that benefit the School of Medicine and those served by the School of Medicine.
---
Dr. Kim won the Outstanding Mentor Award presented by the LSU School of Medicine Faculty Assembly.
---
Minmin Luo was awarded travel to the Biophysical Society meeting in Los Angeles, California. The title of her abstract is, "Trapping the transition state of kinesin-5 produces a different multimotor force outcome than inhibiting product release".