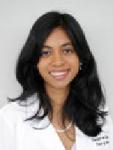 Acting Section Chief and  Assistant Professor of Clinical Medicine Program Director, Endocrinology Fellowship Section of Endocrinology, Diabetes & Metabolism, LSUHSC

 
LSU Healthcare Network Clinic
3700 St. Charles Ave., 3rd Floor
New Orleans, LA  70115
Phone: (504) 412-1325
Fax: (504) 412-1498

Academic Office

1542 Tulane Avenue
Room 445, Box T4M-2
New Orleans, LA  70112
M.D. - New York Medical College Valhalla, New York
M.S. - Georgetown Univeristy, Washington D.C.
B.A. - Harvard University, Boston, Massachusetts
Dr. Taniya de Silva serves as Program Director of the Endocrinology, Diabetes, and Metabolism Fellowship Program. She is board certified in internal medicine and endocrinology.  A graduate of New York Medical College, she completed her residency at Boston Medical Center and her endocrinology fellowship at the University of Massachusetts Medical Center.  At the University of Massachusetts, Dr. de Silva worked in the general endocrine clinic where she performed thyroid ultrasounds and fine needle aspiration biopsies of the thyroid.  She also worked in the UMass Diabetes Center of Excellence and staffed a transitional diabetes clinic for adolescents with diabetes.  Dr. de Silva treats patients with a broad range of endocrine disorders with a particular interest in thyroid disorders and diabetes.
Program Director - Endocrinology, Diabetes, and Metabolism Fellowship
Committees & Administrative Responsibilities
Clinical Practice Leadership Group
Houses Program - Small group leader and mentor for medical students' mentoring program at LSUHSC School of Medicine.
LSU Health Sciences Center Curriculum Renewal Committee Member
LSUHSC School of Medicine Strategic Planning Effort: Work Group on Faculty Development and Mentoring
Affiliated Hospitals & Clinics
General Endocrine Clinic
LSU Multispecialty Clinic - St. Charles