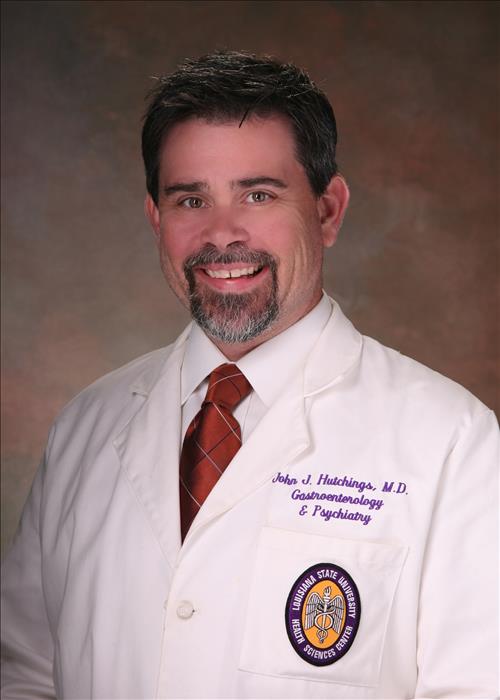 Associate Professor of Clinical Medicine
LSU Healthcare Network Clinic

Section of Gastroenterology
3700 St. Charles Ave., 4th floor
New Orleans, LA 70115
Phone: (504) 412-1444
FAX: (504) 412-1497

 

Academic Office

Section of Gastroenterology
1542 Tulane Avenue
Suite 423, T4M-2
New Orleans, LA 70112
Phone: (504) 568-5722
FAX: (504) 568-2127
MD – 2001
Medical University of South Carolina
Charleston, South Carolina
 
Dr. Hutchings completed his residency in internal medicine/psychiatry and also a fellowship in gastroenterology at Tulane University Health Sciences Center in New Orleans, Louisiana. While in his fellowship program, he also served as Clinical Instructor in the Department of Psychiatry. Dr. Hutchings practices primarily at University Medical Center where he serves as the director of medical endoscopy. In addition, he maintains a psychiatric practice with the New Orleans Musician's Clinic.
Committees & Administrative Responsibilities
Biomedical Ethics Committee
Interim LSU Public Hospital
1. Hutchings JJ, Bultman BE. Promoting safe sounds in the birth city of American music. Hearing Review. 2017;24(2):20.
2. Spera M, Thélin C, Gandolfi A, Clayton N, Nettles K, Hagensee M, Hutchings J, Lopez F.  A 35 year old woman with abdominal pain.  J La State Med Soc.  2016 May-June
3. Thélin C, Geist J, Hutchings J, Raines D.  Clinical presentations of secondary aortoenteric fistulae: A case report and literature review.  J Gastro Hepatol Res. 2015; 4(5): 1618-1626
4. Chandamuri B, Spiegel J, Nicaud, M, Hutchings J.  Ipilimumab-induced enterocolitis: A fatal immune-related adverse event of melanoma treatment.  J Gastro Hepatol Res.  2013; 2(12): 878-882.
5. Mabry C, Hutchings J, Sanders C, Neitzschmann H.  Nausea, vomiting and diarrhea in a patient with hepatitis C and acquired immunodeficiency syndrome (AIDS).  J La State Med Soc.  2012 Sept/Oct; 164(5): 290-291.
6. Gupta MK, Jenkins LP, Engel LS, Hutchings JJ.  Intestinal spirochetosis presenting as a leiomyoma.  J Invest Med.  2011 Feb; 59(2):418.
7. Raines DL, Hutchings J.  Benign Submucosal Masses.  In: Capsule Endoscopy by Case Study.  Ed. Daniel Raines.  Bethesda, Maryland: Ambris Publishing, 2011.  101-104.