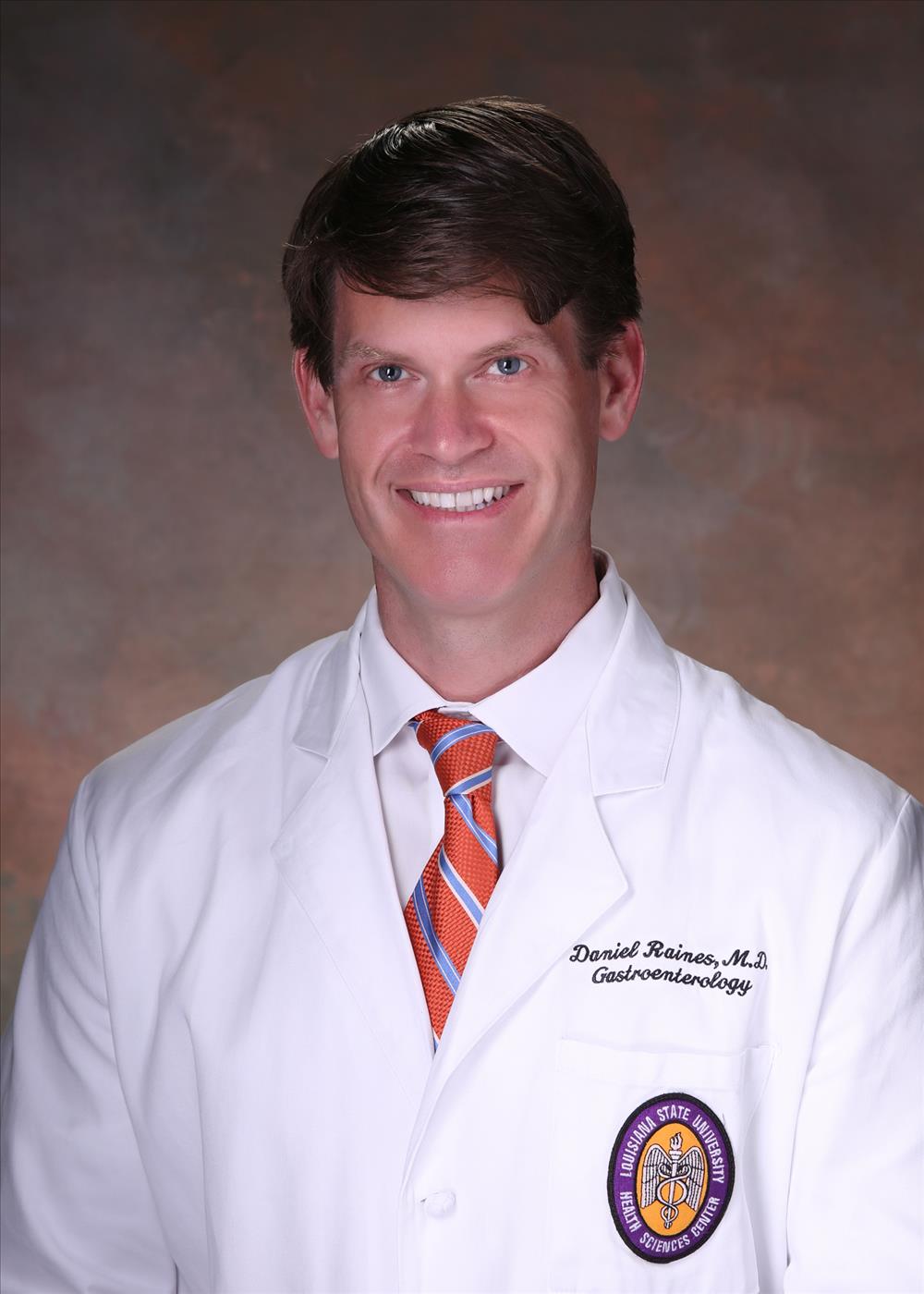 Daniel L. Raines, MD, FACG
Section Chief & Program Director
Associate Professor of Clinical Medicine
1542 Tulane Avenue
Box T4M-2
New Orleans La 70112
Phone (504) 568-4498
Fax (504) 568-2127
draine@lsuhsc.edu
MD completed May, 2001
LSU-Shreveport Medical Center
Dr. Raines completed his internship and residency in Internal Medicine at the University of Alabama in Birmingham in 2004. Following the completion of a fellowship in Gastroenterology at LSU Health Sciences Center in New Orleans in 2007, he joined the faculty at the rank of Assistant Professor in the Department of Medicine's Section of Gastroenterology. In November of that year he was appointed acting chair of this section and remained in that position until appointment as Section Chief in July 2013. Dr. Raines provides instruction to the fellows in clinical gastroenterology with a focus on small bowel disease. His research in small bowel disease has resulted in a specialty expertise in small bowel capsule endoscopy and balloon enteroscopy. He is a member of the American College of Gastroenterology (ACG) and the American Society for Gastrointestinal Endoscopy (ASGE). His recent publications include a textbook of capsule endoscopy and small bowel disease titled "Capsule Endoscopy by Case Study" which has been adopted by the American College of Gastroenterology.
Small Bowel Disease
Capsule Endoscopy
Balloon Enteroscopy
Committees & Administrative Responsibilities
Advisory Committee to the Department of Graduate Medical Education
1. Raines DL, Jex K, Nicaud M, Adler, D. Medical Provocation in the Evaluation of Complex Cases of GI Bleeding. Gastrointestinal Endoscopy. Jan 2017.85(1):112-120. PMID: 27343413
2. Raines DL, Spera M, Bollinger E. The Safety and Efficacy of Device-Assisted Enteroscopy in the Setting of Thienopyridine Antiplatelet Therapy. Journal of Clinical Gastroenterology. June 2016. PMID: 27136961
3. Theilin C, Geist J, Hutchings JJ, Raines DL. Clinical Presentations of Secondary Aortoenteric Fistulae. Journal of Gastroenterology and Hepatology Research. May 2015. May 21 (4): 1618-1626.
4. Raines DL, Arbour A, et al. Variation in Small Bowel Length: A Factor in Achieving Total Enteroscopy? Digestive Endoscopy 2014 May; 26 (6)
5. Wang YZ, Raines DL, et al. Surgical Treatment Options for Rectal Carcinoid Cancer: Local versus Radical Excision. The American Surgeon 2014 Jan; 80(1):31-5
6.  Bollinger EA, Saitta P, Raines DL. Distribution of Bleeding Intestinal Angioectasias. World of Journal of Gastroenterology.2012 November 21; 18(43): 6235-6239.
7. Raines D, Chester M, Diebold AE, Mamikunian P, Anthony CT, Mamikunian G, Woltering EA. A prospective evaluation of the effect of chronic proton pump inhibitor use on plasma biomarker levels in humans. Pancreas. 2012 May;41(4):508-11. PubMed PMID: 22460728.
8. Raines DL, Hutchings JJ. Evaluation of Obscure Gastrointestinal Bleeding after a Negative Capsule Endoscopy. In. Capsule Endoscopy by Case Study. Ed. Daniel Raines. Ambris Publishing. 2012
9. Shah H, Raines DL. Heterotopic pancreas. In. Capsule Endoscopy by Case Study. Ed. Daniel Raines. Ambris Publishing. 2012
10. Starr SP, Raines D. Cirrhosis: diagnosis, management, and prevention. Am Fam Physician. 2011 Dec 15;84(12):1353-9. Review. PubMed PMID: 22230269.
11. Raines DL, Lopez FA. Clostridium difficile infection in non-HIV-immunocompromised patients and in HIV-infected patients. Curr Gastroenterol Rep. 2011 Aug;13(4):344-50. Review. PubMed PMID: 21541693.
12. Joseph S, Wang YZ, Boudreaux JP, Anthony LB, Campeau R, Raines D, O'Dorisio T, Go VL, Vinik AI, Cundiff J, Woltering EA. Neuroendocrine tumors: current recommendations for diagnosis and surgical management. Endocrinol Metab Clin North Am. 2011 Mar;40(1):205-31. Review. PubMed PMID: 21349420.
13. Gupta MK, Karlitz JJ, Raines DL, Florman SS, Lopez FA. Clinical case of the month. Heterotopic pancreas. J La State Med Soc. 2010 Nov-Dec;162(6):310-3. PubMed PMID: 21294486.
14. Richert A, Raines D, Lopez FA. New onset ascites secondary to cirrhosis. J La State Med Soc. 2009 Jan-Feb;161(1):9-13; quiz 13, 54. Review. PubMed PMID: 19278163.
15. Laperouse P, Raines D, Diamond K, Rivera S, Newman W, Hew AY Jr, Lopez FA. Gastrointestinal stromal tumors: a case report and review of the literature. J La State Med Soc. 2008 May-Jun;16(3):128-33; quiz 134. Review. PubMed PMID: 18655648.