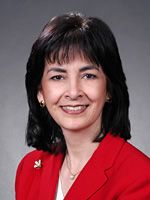 Sheila Chauvin, PhD
Professor of Medicine
Professor of Public Health
Director, OMERAD
2020 Gravier Street
Room 658
New Orleans, LA 70112 
504.568.2140  Phone
504.599.1453  FAX
SChauv@lsuhsc.edu
BA Special Education and Elementary Education - 1975
Nicholls State University, Thibodaux LA
MED Curriculum and Instruction, Learning Disabilities
Emphasis - 1982; Nicholls State University, Thibodaux LA
PhD Educational Administration and Supervision - 1992
LSU
Sessions BA, Hilton CW, Chauvin SW, Yang T. "Forecasting changes in Louisiana physician age cohorts: 1994 – 2020." J La State Med Soc 158:2006. 81-84.

Sarpy SA, Chauvin SW, Hites L, Cuccia M, Capper S, Anderson AC. "The South Central Center for Public Health Preparedness Training System Model: A Comprehensive Approach." Public Health Reports, 2005. 

Kozmenko V, DeLanzac K, Chauvin S, DiCarlo R, Hilton C. "Mass Casualty Drill Pilot Program." Published manual on the use of the ECS portable simulators in developing mass casualty disaster scenarios. 

Yang T, Chauvin SW, Scott JR. "Major Disaster Incident Response Plan (MDIRP) Train-the-Trainer program (Arkansas Department of Health): final program evaluation report." May 2006. Technical Report. 

Kozmenko V, DeLanzac K, Chauvin S, Yang T, DiCarlo R, Hilton C. "Developing and implementing Human Patient Simulation curriculum for junior medical school students." Published in the 2nd Annual Swedish-American Workshop on Modeling and Simulation manual.