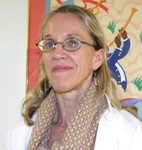 Rebecca A. Clark, MD, PhD
Director, HIV Outpatient Research Programs
HIV Outpatient Lead Physician
Professor of Medicine
HIV Outpatient Program
Infectious Diseases Section, LSUHSC-MCLNO
2235 Poydras Street
New Orleans, LA  70119
504-826-2016 Phone
504-680-0249 Fax
rclark@lsuhsc.edu
Dr. Clark is the primary care clinician for the majority of women with HIV attending the HIV Outpatient Program (HOP) since 1991. As both the HOP Maternal/Child Director and Director of the HOP Research Programs she has had the opportunity to develop an innovative setting conducive to the optimal management of HIV in women, including the chance to participate in a research. Subsequently, the HOP clinic has been highly successful in the recruitment and retention of women into clinical trials and other longitudinal studies. At the national level, Dr. Clark was active in the Adult ACTG when the site was funded. She continues to oversee pharmaceutical sponsored clinical trials, translational research, and epidemiologic studies at HOP. As an epidemiologist, she also serves as mentor for students conducting research at both the LSU and Tulane schools of public health. In 2004, Dr. Clark published the first and only book for women with HIV (second edition to be published 2012).
Clark R, Brandon W, Dumestre J, Pindaro C: Clinical Manifestations of HIV Infection in Women Living in Louisiana. Clin Infect Dis 1993;17:163-172
Clark R, Blakley S, Rice J, Brandon W: Markers of HIV Disease Progression in Women J Acquir Immune Def Syn 1995;9:43-50.
Anderson J, Clark R, Watts H, Tille M, Arrastia C, Schuman P, Young M, Bessen L, Greenblatt R, Vogler M, Swindalls S, Boyer P: Ideopathic genital ulcers in women infected with human immunodeficiency virus. J Acquir Immune Def Synd1996;13:343-7
Clark R, Kissinger P, Williams T: Contraception among HIV infected women and adolescents. Int J STD AIDS 1996;7:439-42
Clark R, Kissinger P, Bedimo A, Dunn P, Albertin H: Determination of factors associated with condom use among women infected with human immunodeficiency virus. Int J STD AIDS 1997;8:229-233
Clark RA, Bessinger R: Clinical manifestations and predictors of survival among older women infected with HIV. J Acquir Immune Def Synd 1997;15:341-5
Bessinger R, Clark RA, Kissinger P, Rice J, Coughlin S: Pregnancy is not associated with an increase in progression of HIV disease in women attending an HIV Outpatient Program. Am J Epi 1998;147:434-40
Clark RA, Niccolai L, Kissinger P, Peterson Y, Bouvier V: Ethnic differences in body image attitudes and perceptions among women infected with human immunodeficiency virus. Am J Diet Ass 1999;99:735-7
Clark RA, Mulligan K, Stamenovic E, et al.: Frequency of anovulation and early menopause among women enrolled into selected AIDS Clinical Trials Group studies J Infect Dis 2001;184:1325-7
Mulligan K, Zackin R, Clark RA et al. : A randomized double-blind placebo controlled phase I/II trial of nandrolone decanoate in women with HIV-associated weight loss. Arch Intern Med 2005;16:578-85
Clark RA, Theall K, Kissinger P: Frequent douching and clinical outcomes among HIV-Infected women. Sex Trans Dis 2007; Jul 5 Electronic version available
Clark RA, Theall K, Kissinger P: Lack of association between genital tract HIV-1 RNA shedding and hormonal contraceptive use in a cohort of Louisiana women. Sex Trans Dis 2007 Jun 8 electronic version available
Frontini M, Chotalia J, Spizale L, Onya W, Ruiz M , Clark RA: Sex and race effects on risk for selected outcomes among elderly HIV-infected patients J Int Assoc Physicians AIDS Care (Chic). 2011 Apr 25. [Epub ahead of print]
Cohn S, Clark RA: HIV Infection in Women. 5th, 6th, and 7th Edition Principals and Practice of Infectious Diseases Ed. Mandell GL, Bennett JE, Dolin R: Publisher Elsevier Churchill Livingstone, Philadelphia, Pennsylvania pubished 1999, 2004, and 2009
Clark RA, Maupin R, Hammer J : A Women's Guide to Living with HIV : Publisher Johns Hopkins University Press, Baltimore, Maryland 2004, second edition to be published 2012