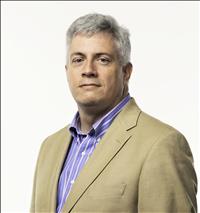 Paul LeLorier, MD, FACC
Professor of Clinical Medicine
Director, Electrophysiology Service
Section of Cardiology
533 Bolivar Street
Room 361, Box CSRB 3-42
New Orleans, LA 70002
504.568.2718  Phone
504.568.2127  FAX
plelor@lsuhsc.edu

 

M. D. -- 1994
McGill University Medical School
Montreal, Quebec, Canada
A native of Montreal, Dr. Paul LeLorier completed his medical school training at McGill University before going to Washington University in St. Louis, Missouri for his Internal Medicine Residency. He then completed a fellowship in Cardiovascular Diseases at the University of Chicago and a fellowship in Electrophysiology (EP) at the London Health Sciences Centre, in London, Ontario, Canada. He joined the faculty at the Boston University School of Medicine in 2001 where he served as Director of the EP Training Program and the Syncope Evaluation Center and won numerous teaching awards from students and fellows. He is board certified in internal medicine, cardiovascular medicine, and electrophysiology.
Dr. LeLorier's academic interests are focused on the evaluation and management of syncope. He will be based primarily at the Interim LSU Hospital and Touro Infirmary where he will provide the full-range of electrophysiology services.
 
• Syncope
• Pacemaker implantation
• Invasive electrophysiology
• Cardiac arrhythmia
LeLorier, P. Carr, JG. Sudden Cardiac Death. In: Cardiology (3rd edition). Crawford MH, DiMarco JP (eds.). In press.

Zhu T, LeLorier P, Monahan K. Restoration of electrical diastole with bi-ventricular pacing. Europace. 2008; 10: 505.

Sanghvi N, LeLorier P, Gururaj A, Monahan K. Influence of Drive Cycle Length on Initiation of Ventricular Fibrillation During Implantable Cardioverter Defibrillator Threshold Testing. Pacing and Clinical Electrophysiology. 2006;29 (9):926-929.
LeLorier, P.; Monahan, K. Sudden Cardiac Death. In: Cardiology (2nd edition). Crawford MH, DiMarco JP (eds.). 2004. Mosby. London.
Skanes AC, Walker B, LeLorier P, Klein G. Asymptomatic ECG Abnormalities. In: Electrophysiological Disorders of the Heart. Saksena S, Camm A (eds.). 2004. Elsevier. Philadelphia.
LeLorier, P.; Humphries, KH.; Krahn, A.; Connolly SJ.; Talajic, M.; Sheldon, R.; Dorian, P.; Newman, D.; Kerr, CH.; Yee, R.; Klein, GJ. Prognostic Differences Between Atrial Fibrillation and Atrial Flutter. The Canadian Registry of Atrial Fibrillation. American Journal of Cardiology. 2004;93:647–649.
 
Affiliated Hospitals & Clinics