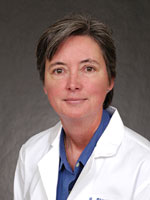 Ellen Slaven, MD, FACEP, FAAEM
Clinical Associate Professor of Medicine
Section of Emergency Medicine
2021 Perdido Street
5th Floor Room 535W
New Orleans, La. 70112 
504.903.3594  Phone
504.903.4569  FAX
eslave@lsuhsc.edu
BA Biology & Psychology - 1986
California State University, Fullerton, CA
MD - 1990
Tulane University School of Medicine
After earning her MD degree from Tulane University, Dr. Slaven completed an internship and residency in Emergency Medicine at the University of Southern California Medical Center in Los Angeles.
From 1994 to 1998, Dr. Slaven was on staff at Earl K. Long Medical Center in Baton Rouge, Louisiana. She then completed a fellowship program in Infectious diseases at LSU Health Sciences Center and joined the faculty of LSUHSC in New Orleans in 2000.
Dr. Slaven won numerous awards for her work during Hurricane Katrina and throughout the recovery effort, including the ACEP Special Commendation for Meritorious Service, the U.S. Army 14th Division Combat Support Hospital Commendation for Excellent Healthcare Service, and an LSUHSC Emergency Medicine Commendation for Service During and After Hurricane Katrina.  She also serves as a volunteer at the Harry Thompson Rebuild Medical Clinic for the Homeless.
Dr. Slaven is a fellow of both the American College of Emergency Physicians and the American Academy of Emergency Physicians.
Director,   LSUHSC Emergency Medicine Critical Care
               Updates Program
Instructor, LSUHSC Emergency Medicine Board Review Course
Instructor, Departmental Interdisciplinary Conferences
 
Committees & Administrative Responsibilities
Member, Infection Control Committee
Member, Bioterrorism Committee
Slaven EM. Human immunodeficiency virus in the emergency department. Textbook of Emergency Medicine. Editor Adams. In press.
Slaven EM. Skin and soft tissue infections. Textbook of Emergency Medicine. Editor Adams. In press.
Slaven EM. Antibiotic recommendations for common infectious diseases. Textbook of Emergency Medicine. Editor Adams. In press.

Slaven EM, Santanilla JI, DeBlieux PM. Healthcare-associated pneumonia in the emergency department. Semin Respir Crit Care Med 2009;30:46-51.

Slaven EM, Stone SC, Lopez FA, eds. Infectious Diseases: Emergency Department Diagnosis & Management. First edition. New York: McGraw Hill, 2007.

Wesley PE. Dog, cat, and human bites: Providing safe and cost-effective treatment in the ED. Emergency Medicine Practice 2003; 5 (8): 1-20.

Slaven EM, Lopez F, Weintraub SL, Mena JC, Mallon WK, The AIDS patient with abdominal pain: A new challenge for the emergency physician., Emerg Med Clin N Amer 21:987-1015, 2003.