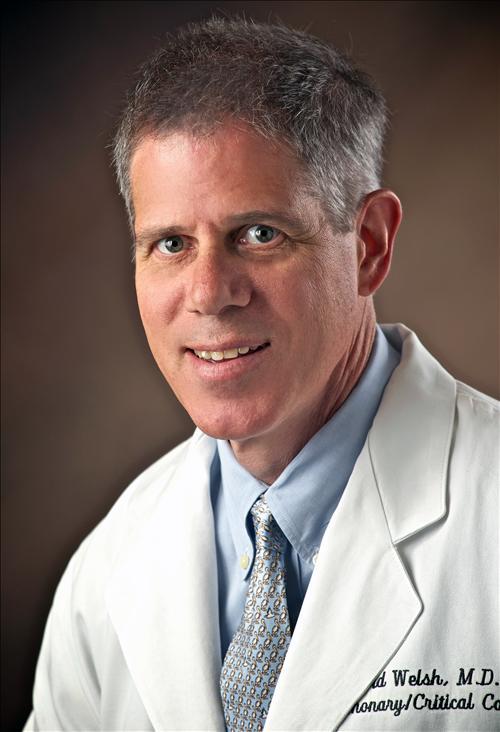 David A. Welsh, MD
Howard A. Buechner Professor of Medicine Professor of Microbiology, Immunology and Parasitology Professor, Alcohol and Drug Abuse Center
1901 Perdido Street,
MEB, Suite 3205

New Orleans, LA  70112


504.568.4634 [voice]

504.568.4295 [fax]


BA - Brandeis University, Waltham, MA
MD - University of Washington School of Medicine, Seattle, WA
Dr. Welsh received training in Internal Medicine at Vanderbilt University Medical Center before completing a fellowship in Pulmonary and Critical Care at LSU.  He oversees the HIV Chest Clinic and provides pulmonary care for the Louisiana Department of Corrections as well as inpatient clinical care at LSU affiliated facilities.
HIV-Associated Lung Disorders
Lung Health during Incarceration
Maladaptive Health Behaviors (Alcohol, Tobacco, Substance Use)
Human Immunodeficiency Virus (HIV)
Lung Host Defense
Biological Age & Geriatric Syndrome Pathogenesis
Microbiota - Host Interactions
Inflamm-aging and Immunosenescence
Welsh DA, Ferguson T, Theall KP, Simon L, Amedee A, Siggins RW, Nelson S, Brashear M, Mercante D, Molina PE. The New Orleans Alcohol Use in HIV Study: Launching a Translational Investigation of the Interaction of Alcohol Use with Biological and Socioenvironmental Risk Factors for Multimorbidity in People Living with HIV. Alcohol Clin Exp Res. 2019 Feb 12. doi: 10.1111/acer.13980. PMID: 30748025
Jolley SE, Welsh DA. Substance use is independently associated with pneumonia severity in persons living with HIV.  Substance Abuse. 2019 Mar 18:1-6. doi: 10.1080/08897077.2019.1576088. PMID: 30883265
Lapinel NC, Jolley SE, Ali J, Welsh DA. Prevalence of non-tuberculous mycobacteria in HIV-infected patients admitted to hospital with pneumonia. Int J Tuberc Lung Dis. 2019 Apr 1;23(4):491-497.
Poggiogalle E, Cherry KE, Su LJ, Kim S, Myers L, Welsh DA, Jazwinski SM, Ravussin E. Body Composition, IGF1 Status, and Physical Functionality in Nonagenarians: Implications for Osteosarcopenia. J Am Med Dir Assoc. 2019 Jan;20(1):70-75.e2.
Samuelson DR, Burnham E, Maffei VJ, Vandizier RW, Blanchard EE, Shellito JE, Luo M, Taylor CM, Welsh DA.  The respiratory tract microbial biogeography in alcohol use disorder.  Am J Physiol  Lung Cell Mol Physiol.  2018 Jan 1;314(1):L107.
PE Molina, L Simon, A Amedee, DA Welsh, T Ferguson. Impact of alcohol on HIV disease pathogenesis, comorbities and aging; integrating preclinical and clinical findings.  Alcohol and Alcoholism. 2018 Jul 1;53(4):439-447. 
Samuelson DR, Siggins RW, Ruan S, Amedee AM, Sun J, Zhu QK, Marasco WA, Taylor CM, Luo M, Welsh DA, Shellito JE. Alcohol consumption increase susceptibility to pneumococcal pneumonia in a humanized murine HIV model mediated by intestinal dysbiosis. Alcohol. 2018 Sep 10. pii: S0741-8329(18)30166-6. 
Obanda, Diana; Ryan, Justin; Raggio, Anne; Husseneder, Claudia; Marx, Brian; Stout, Rhett;
 Welsh, David;
 Taylor, Christopher; Luo, Meng; Blanchard, Eugene; Bendiks, Zach; Diana;
 Keenan, Michael. CD obese-prone rats, but not obese-resistant, robustly ferment resistant starch without increased weight or fat accretion. Obesity.  2018 Mar;26(3):570.
Muzny CA, Blanchard E, Taylor CM, Aaron KJ, Talluri R, Griswold ME, Redden DT, Luo M, Welsh DA, Van Der Pol WJ, Lefkowitz EJ, Martin DH, Schwebke JR. Identification of Key Bacteria Involved in the Induction of Incident Bacterial Vaginosis: A Prospective Study. J Infect Dis. 2018 Aug 14;218(6):966-978.