Robert T. Maupin Jr., MD, FACOG
Dr. Maupin serves the LSU Health Sciences Center's School of Medicine as the Associate Dean of Diversity & Community Engagement. In this role he works closely with the school's Admissions and Student Affairs Divisions to advance quality institutional diversity programming, and support pathways into the health professions for disadvantage and underrepresented minority students. For nearly 20 years, he has served as full-time clinical faculty in the school's Obstetrics & Gynecology Department, and holds an appointment as Warren C. Plauche' Professor of Maternal-Fetal Medicine. He is originally a native of the Washington DC metropolitan area, and is an alumnus of the University of Maryland's School of Medicine. He completed his residency training on OB/GYN with LSU in New Orleans at the historic Charity Hospital, and completed a Maternal-Fetal Medicine fellowship at the University Maryland Medical Center in Baltimore. Clinically, he specializes in perinatal imaging and perinatal HIV management, and has previously served with NIH funded national/international perinatal HIV/AIDS clinical trials network leadership groups, and as a principal investigator with CDC sponsored clinical trials. He serves as a member of the US Public Health Service Perinatal HIV Guidelines Working Group and has been a consultant for the CDC Division of HIV/AIDS Prevention. For additional background information, please click MaupinCV .

Allison C. Augustus-Wallace, PhD, MS, MNS, DEIC
Dr. Augustus-Wallace serves LSU Health Sciences Center, School of Medicine (SOM), Department of Medicine, and Office of Diversity and Community Engagement as an Associate Professor-Research, and as Director of Undergraduate Academic Pipeline Programs for Diversity. In this role, she is responsible for the creation, development, and implementation of current and future ODCE programs and operations, which involves data/statistics collection, compilation, analysis, and reporting related to institutional diversity metrics for medical education, graduate medical education, and faculty, as well as planning and evaluation of programs, projects, and services. Additionally, as the liaison between our office and Louisiana Undergraduate Institutions, she develops and facilitates undergraduate pipeline programs for the recruitment and retention of URM students interested in attending medical school. Furthermore, she advises and mentors students, both academically and professionally, as well as coordinates and assists in the development and implementation of diversity related medical education curriculum, such as her role with the SOM-UME, Health Equity Curriculum Committee and its Faculty Professional Development in Diversity, Equity, and Inclusion (DEI).
Likewise, she leads and has several roles regarding Diversity, Equity, and Inclusion (DEI) Affairs committees and educational efforts in our Schools of Medicine, Graduate Studies, and Vice-Chancellor, Academic Affairs (VCAA) for Faculty/Staff/Professional Students (Medical and Biomedical).
Her primary focus is tri-fold:
1) to increase academic access and competitiveness through developing and implementing equity and inclusion initiatives for the development of medical and biomedical workforces from historically-excluded backgrounds and intersectional populations;
2) to review, reinterpret, and develop hiring and promotion policies and practices focused on the recruitment and retention of faculty & staff from historically-excluded backgrounds and intersectional populations;
3) to develop, implement, and evaluate equity and inclusion policies & practices' contributions to the climates of our macro- & micro-environments and campus culture.
Dr. Augustus-Wallace is a Baton Rouge, LA native and is an alumna of LSU-Baton Rouge where she earned both her undergraduate and first Master's degrees in Biochemistry. She earned her second Master's degree from the University of New Orleans in Healthcare Management with Public Health/Epidemiology emphasis. She is a Ruth L. Kirschstein/ NIH/NIGMS/MARC Faculty Fellow and earned her Doctor of Philosophy (PhD) degree from LSU Health Sciences Center, School of Graduate Studies, Department of Biochemistry and Molecular Biology, where she studied the mechanism of ubiquitin E3 ligases, Nedd4.1 and Nedd4.2. Dr. Augustus-Wallace is a member of several professional organizations, such as the American Society for Biochemistry and Molecular Biology (ASBMB), the National Association of Diversity Officers in Higher Education (NADOHE), NIH-Women of Color Research Network, and the Association of Women in Science (AWIS)-National & LSUHSC Chapter. Additionally, she is a former faculty member of Delgado Community College, as an Instructor of Biology, as well as Dillard University, where as an Instructor of Biology (2000-2005), she led the creation of the institution's Pre-Dental School Program and hence, served as its Pre-Dental School Advisor, and Chairperson of its Dental School Placement Committee. For additional background information, please click Augustus-WallaceCV.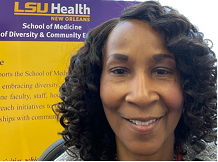 Geri Davis, MEd, BA
Ms. Davis serves as the Office of Diversity & Community Engagement Outreach Coordinator and liaison with the community. She will maintain information and statistics for all community outreach activities that assist in the evaluation of our programs and will be responsible for assisting with the coordination of the K-12 Initiatives. Ms. Davis earned undergraduate degree in Education from Southern University, New Orleans and M.Ed. in Administration from Xavier University, New Orleans.