Peter C. Krause, MD
Professor of Clinical Orthopaedics
---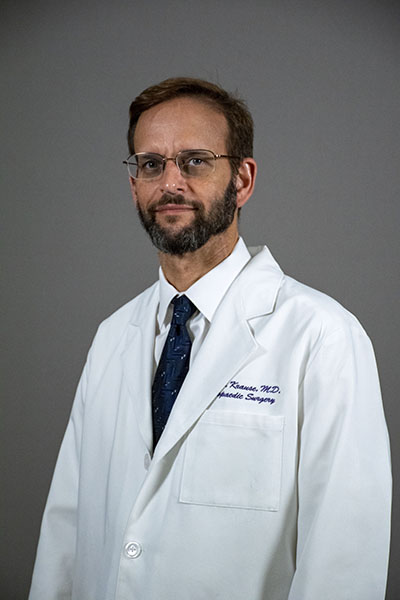 Practice Location:
University Medical Center of New Orleans
2000 Canal Street
New Orleans, LA  70112
(504) 702-4400
Academic Office:
Louisiana State University Health Sciences Ctr., SoM
1542 Tulane Avenue, Box T6-7
New Orleans, LA 70112
(504) 568-4680, phone*
(504) 568-4466, fax*
*Strictly for scholarly communication. All patient-related inquiries, including appointment scheduling, should be directed to
(504) 702-4400. 
Degrees
Fellowship: 
2002 - Orthopaedic Trauma
Detroit Receiving Hospital
Detroit, MI
Residency: 
2001 - Orthopaedic Surgery
SUNY Downstate
Brooklyn, NY
 
MD - 1996
Stanford University 
School of Medicine M.D.
BA - 1990, magna cum laude
Harvard University
Bio
Dr. Krause completed his undergraduate training at Harvard University, graduating magna cum laude in 1990.  He graduated from Stanford University School of Medicine in 1996.   His interest  in orthopaedic trauma developed while completing an Orthopaedic Surgery residency at SUNY Downstate in Brooklyn, which he finished in 2001. He spent  one year in an orthopaedic trauma fellowship at Detroit Receiving Hospital and then moved to New Orleans joining the LSUHSC faculty as an Assistant Professor of Orthopaedic Surgery in 2002.
Clinical Interests
pelvic and acetabular pelvic
and acetabular complex 
post-traumatic reconstruction,
and total hip arthroplasty
Selected Publications
Collinge CA, Attum B, Lebus GF, Tornetta P 3rd, Obremskey W, Ahn J, Mirick G, Schmidt A, Spitler C, Coles C, Krause P.  Acute Compartment Syndrome: An Expert Survey of Orthopaedic Trauma Association Members.  Orthopaedic Trauma Association's Evidence-based Quality and Value Committee. J Orthop Trauma. 2018 May;32(5):e181-e184
Hymel A, Asturias S, Zhao F, Bliss R, Moran T, Marshall RH, Benjamin E, Phelan HA, Krause PC, Marecek GS, Leonardi C, Stuke L, Hunt JP, Mooney JL.. Selective vs Nonselective Embolization vs No Embolization in Pelvic Trauma: A Multicenter Retrospective Cohort Study. J Trauma Acute Care Surg. 2017; PMID: 28463936.
Bliss RL, Mora AM, Krause PC. Does Insurance Status Affect the Management of Acute Clavicle Fractures? Journal of Orthopaedic Trauma  2016;30(5):269-72. 
Russo R, Fury M, Accardo S, Krause PC. Economic and Educational Impact of Firearm-Related Injury on an Urban Trauma Center.  Orthopedics. 2016 Jan 6:1-5.
Krause PC, Braud, JL, Whatley, JM.  Total Hip Arthroplasty after Previous Fracture Surgery.  Orthopedic Clinics of North America 46(2):  193-219, April 2015.
Peter Krause, Melissa Gorman, Barton Wax.  Patella Fractures.  Book Chapter in Contemporary Surgical Management of Fractures and Complications.  Ed. Ilyas and Rehman. Jaypee, 2013.
Duchesne JC, Bharmal HM, Dini AA, Islam T, Schmieg RE Jr., Simmons JD, Whal GM, Davis JA Jr., Krause P., McSwain NE Jr.  Open-book pelvic fractures with perineal open wounds: a significant morbid combination. AM Surg. 2009 Dec; 75(12):1227-33.
Krause PC, Whatley AN, Mautner JF. A Technique for Nailing Severely Shortened and Displaced Tibia Fractures. Journal of Orthopaedic Trauma. 22(2):138-141, February 2008.
Krause PC and Tankson CJ.  Osteomyelitis/Infected Prosthetic Devices.  Book Chapter in Infectious Diseases: Emergency Department Diagnosis & Management. Ed. Slaven, Stone and Lopez.. McGraw-Hill, 2007.
Download CV