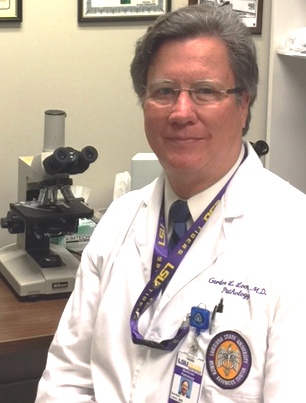 Chairman, Department of Pathology, Louisiana State University Health Sciences Center-New Orleans

Professor of Clinical Pathology

Jack Perry Strong Endowed Professorship of Clinical Pathology

Medical Director of the clinical laboratories of the University Medical Center
LSU Health Sciences Center
Department of Pathology
2021 Perdido St.
CALS Building, 7th Floor
New Orleans, LA 70112
M.D.,1978 , Tulane University School of Medicine.

AP/CP Residency, 1978-1983 Tulane/Charity Hospital
2019 Chairman of Pathology, LSU Health Sciences Center
2018-2019 Chairman of Pathology (interim), LSUHealth Sciences Center
2016-2018 Director of Clinical Chemistry -University Medical Center, New Orleans and Professor of Pathology/Vice chair of Clinical Pathology, LSU Medical School
2013-2014 Western Region Medical Director,Quest Diagnostics Laboratory -8 states and Medical Director of the West Hills (Los Angeles) Quest Diagnostics Laboratory
2006-2013 Medical Director - Quest Diagnostics Laboratory - Sacramento, California
2002- 2014 Clinical Professor of Pathology-University of California, Davis, School of Medicine
1993-2002 Clinical Associate Professor of Pathology-University of California, Davis, School of Medicine
1993-2004 Chief of Pathology - VA Northern California Healthcare System
1992 - Promoted to Associate Professor of Pathology, LSU Medical School
1983-1993 Associate Professor of Pathology - LSU Medical School / VA Medical Center, NOLA
Board Certifications:
Anatomic and Clinical Pathology (1983)
Medical Microbiology (1986)
Cytopathology (1991)
1989- certification -Medical and Public Health Mycology - American Board of Medical Microbiology -emeritus
Clinical Pathology and microbiology, laboratory administration and accreditation, and molecular pathology/personalized medicine/cancer genomics.
Infectious disease pathology particularly fungal disease and COVID-19.
2016 - Date - LSU Medical School
1993-2014 - UC-Davis, School of Medicine
2011-awarded Faculty Teaching Award by the Pathology residents of UC, Davis, School of Medicine.
Committees & Administrative Responsibilities
 - Direction of the UMC Clinical Laboratories including clinical chemistry, molecular pathology, and microbiology.
 - Developing a Clinical Pathology teaching program for LSU Pathology residents and medical students.
 - Member of the College of American Pathologists Clinical Pathology Education Committee.
 - Laboratory inspector for the College of American Pathologists with over 50 career inspections as team leader.
 - 6-sigma certified/active interest in quality and lean laboratory operations.
Cutaneous leishmaniasis in Louisiana - one-year follow-up: A case report. Azhar A, Connel HEl, Haas C, Surla J, Reed D, Kamboj S, Love GL and Bennani Y. World Journal of Clinical Infectious Diseases. Accepted Date: 2020-10-26. In press
Mycology Color Atlas
Color Atlas of Mycology; Love GL, and Ribes JA. College of American Pathologists Press (Northfield, Illinois) 2018. ISBN: 978-194109642-0
Mycology Benchtop Reference Guide: An Illustrated Guide to Commonly Encountered Fungi
Love GL. College of American Pathologists Press; 2013
Subcutaneous phaeohyphomycosis caused by Cladophialophora bantiana.
Love GL. Arch Pathol Lab Med. 2006 Feb;130(2):146.
Epiglottic histoplasmosis presenting in a nonendemic region.
Love GL. Arch Pathol Lab Med. 2005 Jan;129(1):12-4; author reply.
Laryngeal and respiratory tract sporotrichosis and steroid inhaler use.
Zhou CH, Asuncion A, Love GL. Arch Pathol Lab Med. 2003 Jul;127(7):893-4.
Awards
April 2019 - University Medical Center New Orleans Physician of the Quarter 
2013 - Gambino Challenger Award by Quest Diagnostics for laboratory quality metrics.