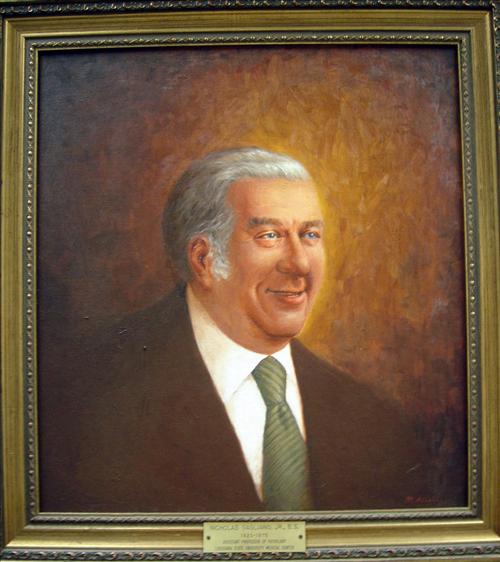 Nicholas Gagliano, Jr., B.S.
Mr. Gagliano was born January 9, 1920 in St. James, La. He attended Louisiana State University, Baton Rouge in 1937-38. He left the University to serve in the United States Army during World War II in the European Theater of Operations. Upon his return from the service he attended Loyola University (Louisiana) and earned a Bachelor of Science degree in 1949. He joined the teaching staff of the Louisiana State University Medical Center in 1949 in the Department of Pathology and served as a Medical Technician until 1956, at which time he was named Medical Museum Curator. He was appointed to the faculty with the rank of instructor in pathology July 1, 1956. He was promoted to the academic rank of assistant professor in 1972. He held this position until his death on August 28, 1975.
By action of the Louisiana State University Board of Supervisors, the area in which this portrait is displayed has been designated the "Nicholas Gagliano, Jr. Memorial Conference Room", commemorating Mr. Gagliano's years of outstanding service to the LSU System, the LSU Medical Center and the New Orleans professional schools of which it is comprised.
On the occasion of the formal presentation of this portrait to the University System, Dr. Jack P. Strong, Boyd Professor of Pathology and head of the Department, Medical Center, a colleague and personal friend of Mr. Gagliano for more than twenty years, said:
"Nick was a devoted staff member. Over the years he helped several thousands of medical students in their endeavors to learn pathology and in later years helped dental students of the School of Allied Health Professions. He loved medical students, the Medical Center, and most of all, the Department of Pathology. In addition to his role as undergraduate teacher, he assisted many residents in pathology. He was also instrumental in setting up innumerable seminars, postgraduate meetings and scientific sessions for other departments as well as for the Department of Pathology. Aside from his professional contributions to the Medical Center, Nick was one of those unforgettable human beings who made a deep impression on almost all of those with whom he came in contact. He was a rare composite of energies and talents. Some students felt that he was the real director of the pathology course – a feeling based on a great deal of underlying truth. To others he was Nick the host, Nick the chef, Nick the father-image, Nick the confessor,  and Nick the man who always had a smile and a kind word. Meeting Nick was an experience and knowing him and working with him was richly-rewarding. Nick was at home in the Medical Center, and his fellow workers were part of his family. Medical Center colleagues, former students and residents, and members of his family donated funds for the Nicholas Gagliano, Jr., Memorial Fund, which furnished the conference room named in his honor and which continues to enrich activities of the Department of Pathology."
William F. Norsworthy
Director of Information Services
Louisiana State University Medical Center
March 8, 1982