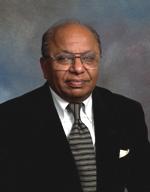 Prem Kumar, MD, MRCP, FACP, FAAAAI
Professor of Medicine and Chief
Section of Allergy and Immunology

Co-director, Allergy Fellowship Training Program
Section of Allergy and Immunology
1542 Tulane Avenue
Room 423, Box T4M-2
New Orleans, LA 70115
504.568.5722  Phone
504.568.2127  FAX

pkumar@lsuhsc.edu
MD - 1960
Agra University, India
Dr. Kumar began his teaching career at LSU School of Medicine in 1978 and began serving as director for the fellowship training program in 1987. He continued as director of this program until 2004 when he became co-director of the combined pediatric and adult program. In 2002, Dr. Kumar published a book entitled Too Many Pills: True Stories of Deaths, Illnesses, and Higher Costs, a book designed to increase the awareness of the public and the medical community to problems associated with over-medication. Since that time he has given many interviews and seminars on the subject, which led to the creation of a national support group consisting of physicians and concerned citizens.
INTERNSHIP AND RESIDENCY
Medicine, 1960-1963
Agra University, India
FELLOWSHIP
Allergy, Clinical Immunology, and Nephrology, 1976-1978
LSU School of Medicine, New Orleans, Louisiana
BOARD CERTIFICATIONS
American Board of Internal Medicine, 1979
American Board of Allergy/Clinical Immunology, 1981
 
CORE Lectures to Junior Medical Students:
     • Organ transplantation
     • Polypharmacy, adverse drug reactions, high mortality,
        morbidity and high cost associated with adverse drug
        reactions
     • Allergy
     • Asthma
Clinical Teaching for Students, Residents, and Fellows
 
Kumar P, Fiorillo A. Anaphylaxis Due to Gadolinium: A Case Report presented at Southern Regional Meeting and published in Louisiana State Society Journal, 2009.
Kumar P, Fiorillo A. Mold Sensitization in the Aftermath of Katrina, Annals of Allergy, Asthma & Immunology, Jan 2008, vol. 100, supp, p. A91.
Kumar P, Fiorillo A. New Onset of Asthma, Sensitization to Environmental Allergens and Aspirin Hypersensitivity in The Aftermath of Katrina: A Case Report, presented at the Southern Society for Clinical Investigation, New Orleans, La., February, 2008.
Kumar P, Arora B, Wiley K, O'Brien R, Shi Y, Rahman F. Hurricane Katrina and the LSUHSC Transplant Laboratory: Actions Taken and Lessons Learned, presented at American Society of Histocompatibility and Immunogenetics Meeting, San Diego, CA, October, 2006 and published in ASHI Quarterly, 2007.
Kumar P, Elshatory K, Vital C, Kamboj S. New Orleans Seniors on Polypharmacy: The Impact of Intervention on Adverse Drug Reactions (ADR) and Cost of Medications, presented at American Academy of Allergy, Asthma & Immunology, San Diego, CA, February, 2006.
Kumar P, "Too Many Pills – Stories of Deaths, Illnesses and Higher Cost", published 2002.