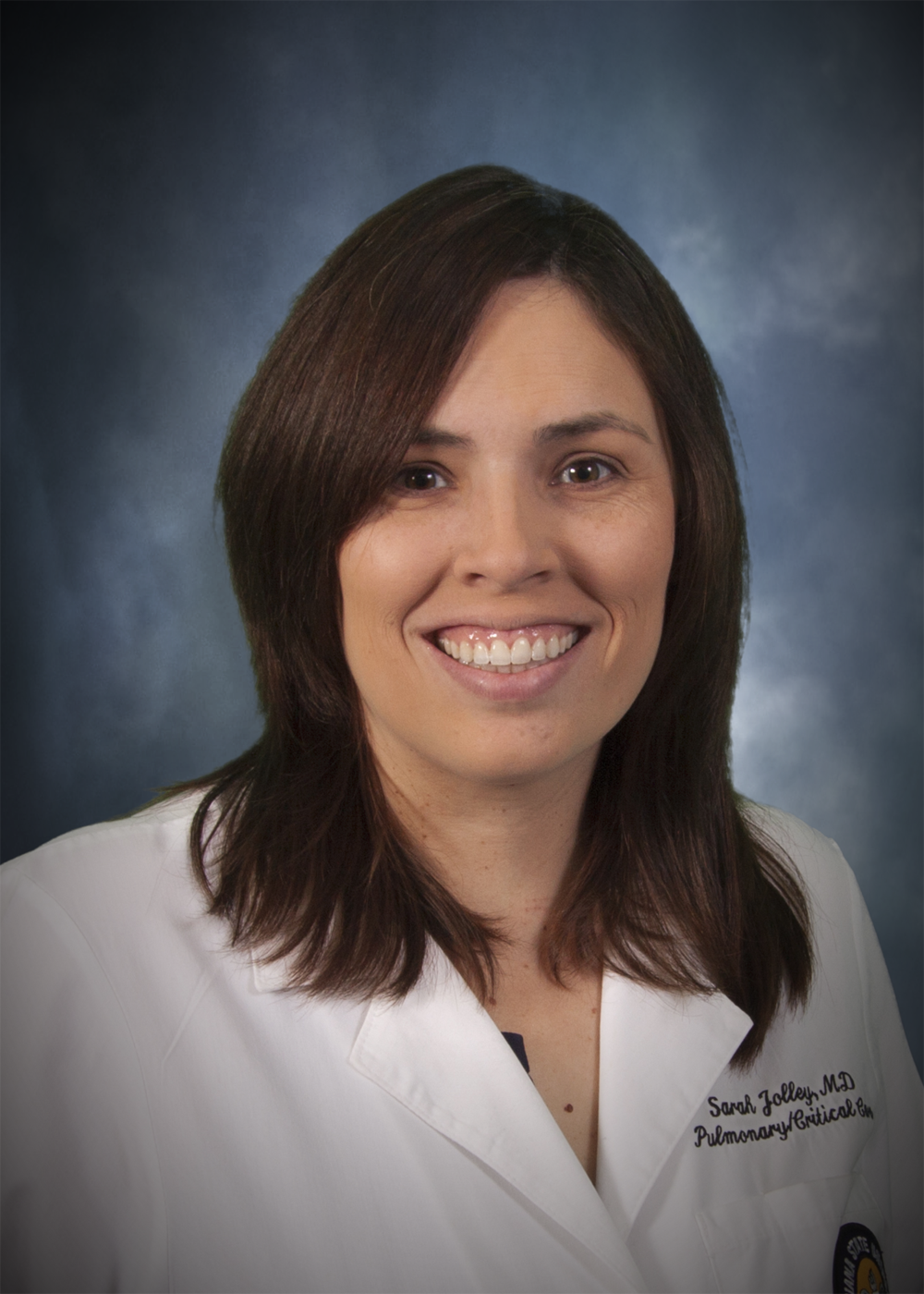 Assistant Professor of Medicine
Section of Pulmonary/Critical Care & Allergy/Immunology

1901 Perdido Street, Suite 3205

New Orleans, LA 70112

phone 504.568.2904

fax 504.568.4295
2017   Masters of Science in Clinical Research, Tulane University, New Orleans, LA
2014   MSc, Epidemiology, University of Washington School of Public Health, Seattle, WA        
2013   Pulmonary and Critical Care Medicine Fellowship, University of Washington, Seattle, WA
2011   Chief Residency, University of Washington Medical Center, Seattle, WA
2010   Internal Medicine Residency, University of Washington Medical Center, Seattle, WA
2007   MD, Louisiana State University School of Medicine, New Orleans, LA
2003   BA, Philosophy/ BS, Biology (Pre-Health), Spring Hill College, Mobile, AL
Dr. Sarah Jolley earned her medical degree at the LSU School of Medicine New Orleans followed by completion of an Internal Medicine residency, Chief Residency, Pulmonary/Critical Care fellowship and Masters of Science in Epidemiology at the University of Washington in Seattle, WA.  She is board certified in Internal Medicine, Pulmonary Medicine, and Critical Care Medicine.  She joined the LSU faculty in 2014.
Critical Care
Critical Care Education and Quality Improvement
End-of-life care
Long-term survivorship after critical illness
Effects of alcohol exposure on critical illness
ICU acquired weakness and early mobilization of critically ill patients
Acute Respiratory Distress Syndrome (ARDS)
Jolley SE , Caldwell ES, Hough CL. Factors Associated with Receipt of Physical Therapy Consultation in Patients Requiring Prolonged Mechanical Ventilation, Dimens Crit Care Nursing, May-June 2014; 33 (3): 160.
Jolley SE, Regan-Baggs J, Dickson RP, Hough CL. Medical intensive care unit clinician attitudes and perceived barriers towards early mobilization of critically ill patients: a cross-sectional survey study. BMC Anesthesiology. 2014; 14:84.
Jolley SE, Dale CR, Hough CL. Hospital-Level Factors Associated with Report of Physical Activity in Patients on Mechanical Ventilation across Washington State. Annals of the American Thoracic Society. 2015; 12 (2):209-215.
Attia, EF*, Jolley, SE*, Crothers, K, Schnapp, LM, Liles, C. Soluable vascular cellular adhesion molecule-1 (VCAM-1) is elevated in bronchoalveolar lavage fluid of patients with Acute Respiratory Distress Syndrome. PLOS One. 2016; 11 (2): e0149687
Jolley SE, Bunnell A, Hough CL. Intensive Care Unit Acquired Weakness. Chest. 2016 Nov; 150(5):1129-1140.
Jolley SE, Alkhafaf Q, Hough C, Welsh DA. Presence of an Alcohol Use Disorder is Associated with Greater Pneumonia Severity in Hospitalized HIV-Infected Patients. Lung. 2016;194 (5):755-762.
Jolley SE, Moss M, Needham DM, et al. Point Prevalence Study of Mobilization Practices for Acute Respiratory Failure Patients in the United States. Crit Care Med. 2017 Feb; 45(2):205-215.
Jolley, SE, Hough, CL, Clermont G, Hayden, D, Hou, S, Schoenfeld, D, Smith, NL, Thompson, BT, Bernard, GR, Angus, DC for the ARDS Network Investigators. Relationship between race and the effect of fluids on long-term mortality after acute respiratory distress syndrome.  Ann Am Thorac Soc. 2017 Jul 14.
Simon L, Jolley SE, Molina PE. Alcoholic Myopathy: Pathophysiologic Mechanisms and Clinical Implications. Alcohol Res. 2017;38(2):207-217.
Spece LJ, Mitchell KH, Caldwell ES, Gundel SJ, Jolley SE, Hough CL. Rate of low tidal volume ventilation use remains low in patients with acute respiratory distress syndrome despite improvement efforts at a single center. J Crit Care. 2017;44:72-76.