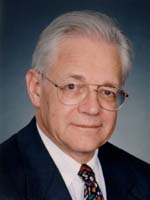 Russell C. Klein, MD, FCCP, FACP
Emeritus Professor of Medicine
Section of Pulmonary/Critical Care & Allergy/Immunology
1901 Perdido Street
Suite 3205
New Orleans, LA 70112
Phone: (504) 568-4634
Fax: (504) 568-4295

rklein@lsuhsc.edu
MD - 1959
Louisiana State University School of Medicine
Lung cancer
Obstructive lung disease
Continuing Medical Education

Klein, R. and Klein, D., Minimizing Liability in the High Risk Patient, Management of the Critically Ill (Sivak E.D., ed.), Lea and Febiger, 1995.
Klein, R., Tainted Money, Non-Profit Times 4 (#10):18, 1991.
Klein, R., Keeping Asthmatics and COPD Patients off Ventilators, Audio Digest 32:42, 1984.
Klein, R., Effects of Indomethacin on Pleural Pain, South Med J 77:1253-1254, 1984.
Klein, R., and Malloy, S., Making Better Use of Arterial Blood Gases, Diagnosis 5:48-62, 1983.