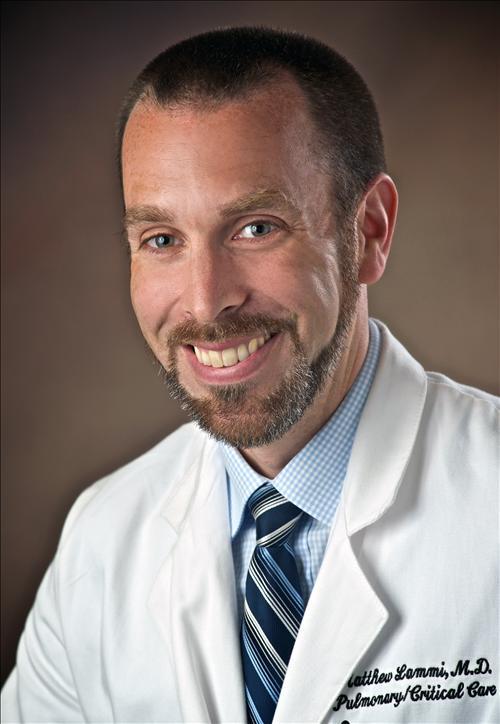 Associate Professor of Medicine
LSU Healthcare Network Clinic
3700 St. Charles Avenue, 4th Floor
New Orleans, LA 70115
Phone: (504) 412-1517
Fax: (504) 412-1518

 

Academic Office

Section of Pulmonary/Critical Care & Allergy/Immunology
1901 Perdido Street
Suite 3205
New Orleans, LA 70112
Phone: (504) 568-4634
Fax: (504) 568-4295
 
2005, Doctorate of Medicine Temple University School of Medicine, Philadelphia, PA  
2001, B.A. Biology Bucknell University, Lewisburg, PA 
After earning his medical degree at Temple University in Philadelphia, he completed Internal Medicine residency, Chief Residency, and a fellowship in Pulmonary and Critical Care at Temple University. He joined the faculty at LSU in 2012.
Connective tissue disease and the lung
Pulmonary hypertension
Heart-lung interactions
Exercise physiology
COPD
Lammi MR, Ciccolella D, Marchetti N, Kohler M, Criner GJ. Increased oxygen pulse after lung volume reduction surgery is associated with reduced dynamic hyperinflation. Eur Respir J. 2012 Oct;40(4):837-43. Epub 2012 Jan 20.
Lammi MR, Marchetti N, Barnett S, Criner GJ. Heterogeneity of lung volume reduction surgery outcomes in patients selected by use of evidence-based criteria. Accepted for publication by Annals of Thoracic Surgery.
Lammi MR, Marchetti N, Travaline JM, Ciccolella D, Civic B, Gaughan J, Criner GJ. Air current applied to the face improves exercise performance and dynamic hyperinflation in patients with COPD. Submitted to Journal of COPD
Lammi MR, Panetta N, Vega ME. Airway bypass stents for emphysema, algorithm to exclude precapillary pulmonary hypertension, and sildenafil for pulmonary hypertension in heart failure with preserved ejection fraction. Am J Resp Crit Care Med 2012; 185(12): 1323-24
Lammi MR and Mover DV. Candida krusei lung abscess in an immunocompetent male. Infectious Diseases in Clinical Practice 2009; 17(1): 58-60
Lammi M, Wurzel J, and Criner G. Pulmonary tumor embolism. Lung 2010; 188(5): 441-443
Remakus CB, Cordova F, Ciccolella D, Mamary AJ, Lammi MR, Shenoy KV, Grabianowski CL, Gaughan JP, Criner GJ. Outcomes of COPD exacerbations treated with corticosteroids, antibiotics, or both. ISRN Pulmonology 2011; vol. 2011, Article ID 157693, 6 pages, 2011. doi:10.5402/2011/157693