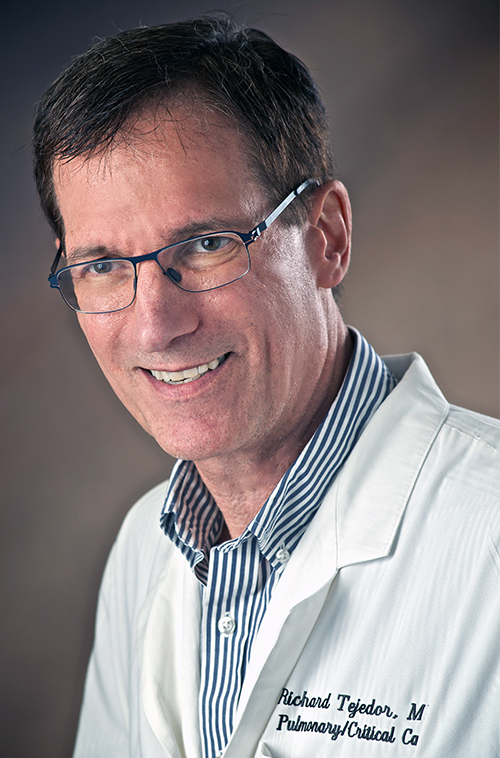 Richard S. Tejedor, MD
Associate Professor of Clinical Medicine

Section of Pulmonary/Critical Care & Allergy/Immunology
LSU Healthcare Network Clinic
200 West Esplanade, Suite 701
Kenner, LA 70065
Phone: (504) 412-1705
Fax: (504) 412-1702

 

 

Academic Office

1901 Perdido Street
Suite 3205
New Orleans, LA 70112
Phone: (504) 568-4638
FAX: (504) 568-4295
rtejed@lsuhsc.edu
MD – 1980
University of South Florida College of Medicine
Tampa, Florida
Upon completing his medical doctorate, Dr. Tejedor completed his internship in Internal Medicine at the Medical College of Georgia's hospitals in Augusta, GA and went on to complete his residency at Tulane University's hospitals in New Orleans, LA. After a year as a National Research Service Award fellow in Pulmonary Disease, he took a fellowship in Pulmonary and Critical Care Medicine at LSU School of Medicine in New Orleans.

From 1992 to 1996, Dr. Tejedor practiced in a very busy Pulmonary/Critical Practice in Orlando, Florida. While in Orlando, Dr. Tejedor was appointed Clinical Instructor in Medicine at the University of Florida and actively engaged in the teaching of medical residents. He then became Chief of Pulmonary Medicine and Program Manager for the Home Sleep Program at Gulf Coast Veterans Healthcare System, where he also served as Program Manager for the Home Oxygen Program, the Pulmonary Function Laboratory, and Director of Respiratory Care Services. Dr. Tejedor also engaged in the teaching of residents through the VA system. He joined the LSU School of Medicine faculty in January of 2010.

Dr. Tejedor's achievements include basic and scholarly research as well as successful program development. He has presented research data at several international meetings including presentations at the Interscience Conference on Antimicrobial Agents and Chemotherapy (ICAAC), American Thoracic Society, and the American College of Chest Physicians. His scholarly work in the field of quality management and performance measures has resulted in changes to national guidelines on two performance measures dealing with community acquired pneumonia. Dr. Tejedor designed a protocol for the performance of home sleep studies which resulted in improved access to care and huge institutional cost savings for a large portion of the gulf coast population of veterans.
Dr. Tejedor has a special interest in the treatment of severe asthma and is a regional expert in Bronchial Thermoplasty. Bronchial Thermoplasty is a non-medication treatment which applies radiofrequency energy directly to the airways through a bronchoscopy with the result of improvement in asthma control. Dr. Tejedor also performs endobronchial ultrasound as an adjunct to bronchoscopy. This procedure allows for the biopsy of chest lesions previously not accessible by bronchoscopy.

Dr. Tejedor is board certified in Internal Medicine, Pulmonary Diseases, and Critical Care Medicine.