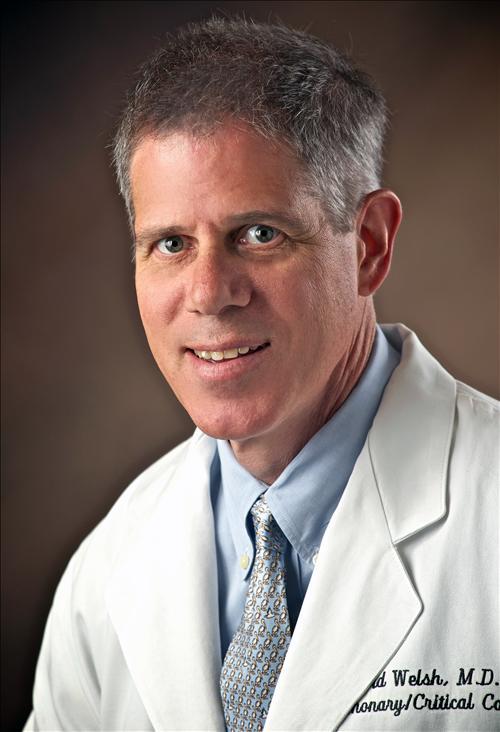 David A. Welsh, MD
Howard A. Buechner Professor of Medicine Professor of Microbiology, Immunology and Parasitology Professor, Alcohol and Drug Abuse Center
1901 Perdido Street,
MEB, Suite 3205

New Orleans, LA  70112


504.568.4634 [voice]

504.568.4295 [fax]


BA - Brandeis University, Waltham, MA
MD - University of Washington School of Medicine, Seattle, WA
Dr. Welsh received training in Internal Medicine at Vanderbilt University Medical Center before completing a fellowship in Pulmonary and Critical Care at LSU.  He oversees the HIV Chest Clinic and provides pulmonary care for the Louisiana Department of Corrections as well as inpatient clinical care at LSU affiliated facilities.
HIV-Associated Lung Disorders
Lung Health during Incarceration
Microbiota - Host Interactions
Maladaptive Health Behaviors (Alcohol, Tobacco, Substance Use)
Human Immunodeficiency Virus (HIV)
Lung Host Defense
Biological Age & Geriatric Syndrome Pathogenesis
Inflamm-aging and Immunosenescence
Recent Publications
Kim S, Fuselier J, Welsh DA, Cherry KE, Myers L, Jazwinski SM. Feature selection algorithms enhance the accuracy of frailty indexes as measures of biological age. J Gerontol A Biol Sci Med Sci. 2021 Jan 20;. PMID: 33471059.
Guice J, Bendiks ZA, Coulon D, Raggio AM, Page RC, Carvajal-Aldaz DG, Lou M, Welsh DA, Marx BD, Taylor CM, Husseneder C, Marco ML, Keenan MJ. Differences in Capacity of High-Amylose Resistant Starch, Whole-Grain Flour, and a Combination of Both to Modify Intestinal Responses of Male Sprague Dawley Rats Fed Moderate and High Fat Diets. J Agric Food Chem. 2020 Dec 23;68(51):15176-15185. PMID: 33291872.
Simon L, Ferguson TF, Vande Stouwe C, Brashear MM, Primeaux SD, Theall KP, Welsh DA, Molina PE. Prevalence of Insulin Resistance in Adults Living with HIV: Implications of Alcohol Use. AIDS Res Hum Retroviruses. 2020 Sep;36(9):742-752. PMC7482115.
Maffei VJ, Siggins RW, Luo M, Brashear MM, Mercante DE, Taylor CM, Molina P, Welsh DA. Alcohol Use Is Associated with Intestinal Dysbiosis and Dysfunctional CD8+ T-Cell Phenotypes in Persons with HIV. J Infect Dis. 2020 Jul 29;. PMID: 32725203.
Ronis MJ, Mercer KE, Shankar K, Pulliam C, Pedersen K, Ingelman-Sundberg M, Friso S, Samuelson D, Del Valle L, Taylor C, Welsh DA. Potential role of gut microbiota, the proto-oncogene PIKE (Agap2) and cytochrome P450 CYP2W1 in promotion of liver cancer by alcoholic and nonalcoholic fatty liver disease and protection by dietary soy protein. Chem Biol Interact. 2020 Jul 1;325:109131. PMID: 32417163.
Ferguson TF, Theall KP, Brashear M, Maffei V, Beauchamp A, Siggins RW, Simon L, Mercante D, Nelson S, Welsh DA, Molina PE. Comprehensive Assessment of Alcohol Consumption in People Living with HIV (PLWH): The New Orleans Alcohol Use in HIV Study. Alcohol Clin Exp Res. 2020 Jun;44(6):1261-1272. PMID: 32441814.
Wallace M, Felker-Kantor E, Madkour A, Ferguson T, Welsh D, Molina P, Theall KP. Adverse Childhood Experiences, Smoking and Alcohol Use, and Allostatic Load Among People Living with HIV. AIDS Behav. 2020 Jun;24(6):1653-1662. PubMed PMID: 31559525.
Ferguson TF, Rosen E, Carr R, Brashear M, Simon L, Theall KP, Ronis MJ, Welsh DA, Molina PE. Associations of Liver Disease with Alcohol Use among People Living with HIV and the Role of Hepatitis C: The New Orleans Alcohol Use in HIV Study. Alcohol Alcohol. 2020 Feb 7;55(1):28-36. PMID: 31812989.
Maffei VJ, Ferguson TF, Brashear MM, Mercante DE, Theall KP, Siggins RW, Taylor CM, Molina P, Welsh DA. Lifetime alcohol use among persons living with HIV is associated with frailty. AIDS. 2020 Feb 1;34(2):245-254. PMID: 31714352.
Ouhtit A, Thouta R, Zayed H, Gaur RL, Fernando A, Rahman M, Welsh DA. CD44 mediates stem cell mobilization to damaged lung via its novel transcriptional targets, Cortactin and Survivin. Int J Med Sci. 2020;17(1):103-111. eCollection 2020. PMID: 31929744.